One of the best ways of saving information is by taking screenshots of documents, images, and even videos. It's an easy way of downloading information without having to type it out or recreate it.
Many people use multiple monitors to get our work done. In such a situation, how do you take screenshots?
So, How to Screenshot only One Monitor?
The quickest way to take a screenshot of only One Monitor is to use the Windows shortcut key of CTRL + ALT + PrtScn (Control, Alt, and Print Screen). This will take a screenshot of the image on your main display.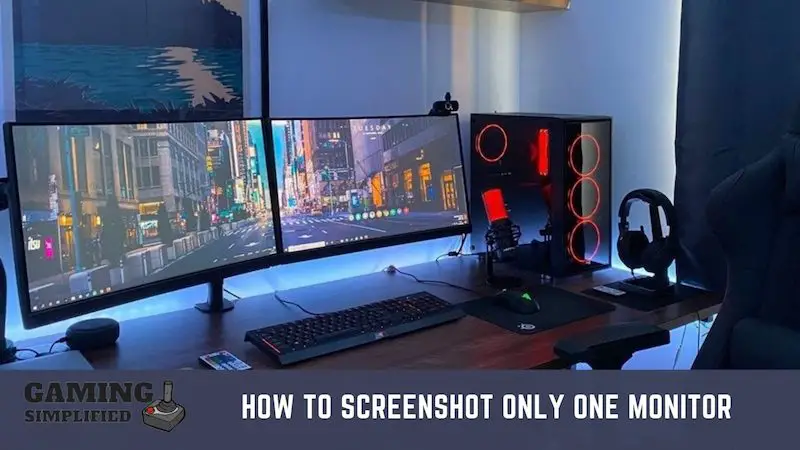 However, this is the method of taking a screenshot of the active display. But what if you want to take a screenshot of a secondary display or both monitors. Here is a list of solutions we have for you for the below-mentioned scenarios.
Taking a screenshot of one monitor with Keyboard Shortcut
Taking a screenshot of both monitors with Keyboard Shortcut
Using an app to generate screenshots (without keyboard)
Screenshots on Mac systems with Keyboard Shortcut
Taking a screenshot of one monitor with Keyboard Shortcut
Here is how you can screenshot one monitor with Keyboard Shortcut:
Placing the cursor of your mouse on the active screen monitor of which you want to take a screenshot. Open the application you want to screenshot
On your computer hit the buttons PrtScn or CTRL+ALT+PrtScn
If that doesn't work then you can also try ALT + PrtScn
This generates the screenshot but now you need to paste the screenshot into an application to save the image
To do this, you can open any application like Microsoft Word, Powerpoint, Paint, Microsft Excel etc and then press the CTRL + V (paste) keys or right-click on the application page and select Paste
Now for saving the screenshot click on FILE and SAVE
This is one of the easiest ways to take a screenshot of one monitor while working on multiple monitors. In case you are using multiple monitors, check out our guide on can you use a tv as a computer monitor?
Taking a screenshot of all connected monitors with Keyboard Shortcut
This is a pretty easy method. To take a snapshot of all connected monitors, you need to do this
Ensure all your monitors are switched on and connected
On the keyboard, press CTRL + PrtScn
Paste the copied image file into any application of your choice and save the file
Alternatively, you can also try using Windows + PrtScn
Take Screenshot through a Windows App (without keyboard)
One of the ways to screenshot only one monitor on a Windows computer is by using their inbuilt application which is known as Snip & Sketch. You don't have to use any keyboard shortcuts for this method.
Click on Start and search for the Snip & Sketch application and click on it to open it
Now click on the menu bar on the top left corner and click on NEW
You can also use the CTRL+N keys on your keyboard to take the screenshot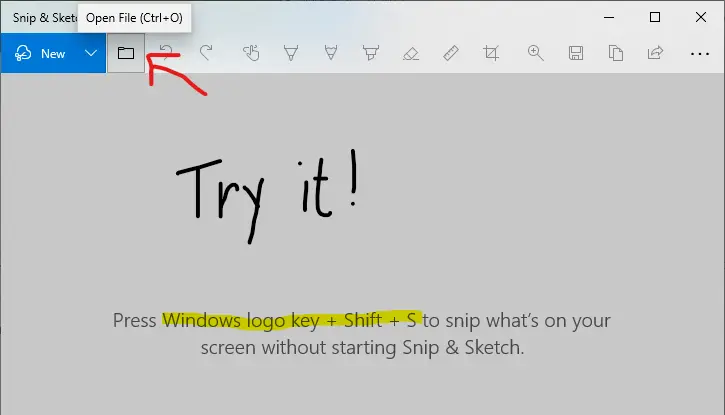 Select the rectangular icon which will now appear on the toolbar on the top. You can now start snipping your screen by dragging the cursor to the area you wish to snip
Click on File – Save to save your screenshot or type CTRL + S
You can also click on the floppy disk icon on the right side and save the screenshot
The main advantages of using the Snip & Sketch application are
You can take a screenshot of any connected monitor
You can take a screenshot of a part of the visual on a monitor
You don't need to paste the file in any application as it automatically generates the image
Taking a screenshot on Macbooks with Keyboard Shortcut
Even macOS has the option of generating screenshots using keyboard shortcuts. This is also a pretty simple process. Here is how you can do it.
On the keyboard, press SHIFT + COMMAND +4

When you do that, you will your cursor change into a crosshair cursor
Now move the cursor to the place from where you want to start the screenshot
Click on the trackpad, keep it pressed and drag the cursor to cover the area you want to screenshot
The image is automatically generated and saved in the Desktop folder

If you don't want to select a particular area and just want an image of the complete display, then press SHIFT + COMMAND + 3. This takes a screenshot of the screen and saves it to your Desktop folder
That's almost everything. However, I've written a similar article on a guide on fixing a second monitor not detected. If you ever face this issue you may give it a check.
Conclusion
Taking a screenshot on a Windows Monitor is one of the easiest things to do which we are sure would have become easier after reading this article. On a chromebook the process can be different specially if my chromebook won't turn on issue appears all of a sudden!
We really hope you have enjoyed reading this article today and that the next time you are working with dual or triple monitors and need to take a screenshot of your monitors, then the steps that we discussed above will help and guide you. You can also check out our guide on monitor flickering and how to fix it, also check out how to overclock monitor on AMD.