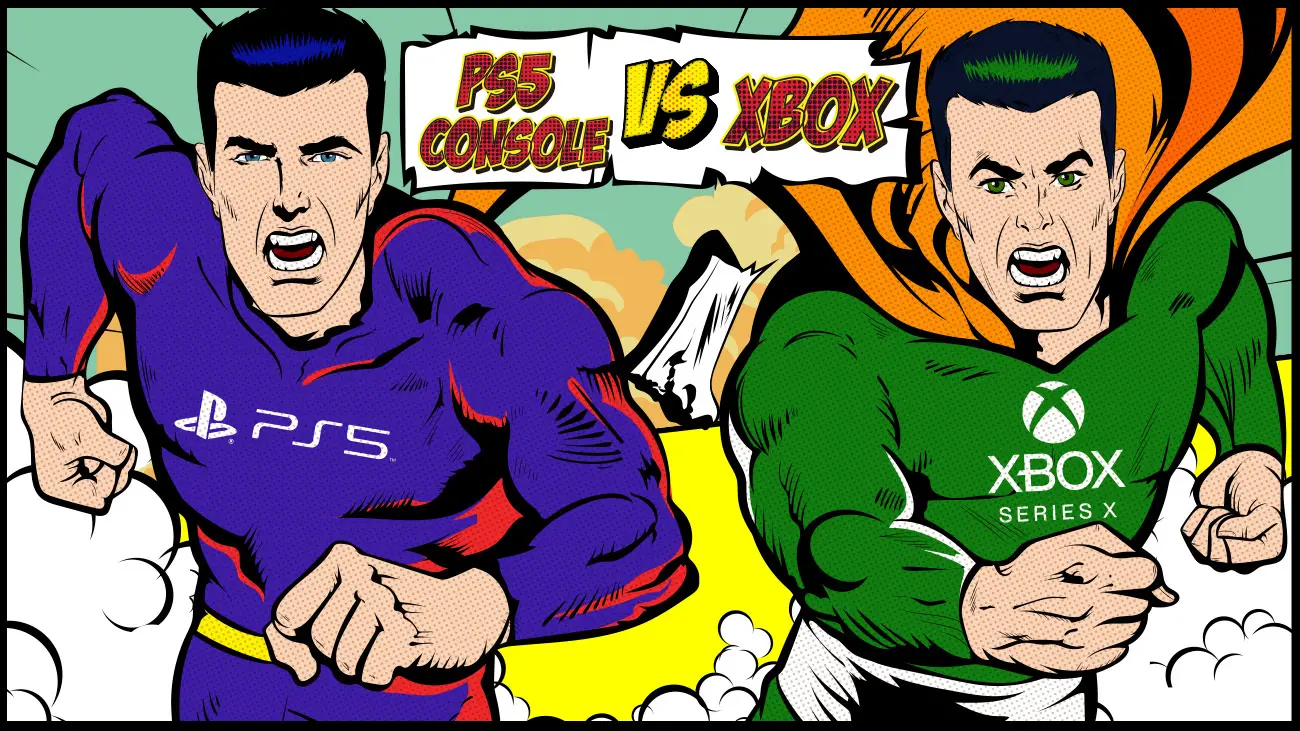 Introduction
​Everyone loves a gaming night now and again, or maybe even every night… Just us? If you've found your way onto this article, the chances are that you've experienced that intense feeling of when a much-anticipated game has just hit the shelves. You wait all day just to get to the shop and get your hands on the new game that you'll be spending the whole night playing. The lines are long and the excitement is real, so imagine the intensity when a new game console comes out. Luckily for all the avid gamers out there, not one but two game consoles are set to be released just in time for Christmas! That's right, the long-awaited PlayStation 5 is coming out at around the same time as the Xbox Series X.
The PlayStation is a game console that has been being manufactured and designed by Sony since 1994, and it has four main consoles. Each of these four have their variants such as the PSone (a variant of the original PlayStation), the PlayStation 3 Slim, and the PlayStation 4 Pro, PS5 which can be used with these best dns for ps5. Overall there have been 10 PlayStation consoles, with the PlayStation 5 being the first release since 2016.
Moving onto Xbox, a console that has been manufactured by Microsoft since 2001, and there are four consoles released to the public.  Expanding from these four models are a total of seven variations, all of which have been greatly received by Xbox gamers. The Xbox Series X is the first console to be released since the Xbox One X, which was released in 2017.
The age-old debate of whether the PlayStation is better than the Xbox or not has never been stronger and it's one of the most passionate debates in the world of gaming. For this reason, and that we know we're all getting anxious waiting for our new game consoles to come into our lives, we've created this article to try and settle the war against Xbox and PlayStation users. We'll be comparing the two models in terms of their performance, controllers, and price, among other factors. Let's get right into it, shall we?
Specifications
​While reading below, bear in mind that all the specifications we've listed below may not be the complete list, as Sony and Microsoft may not have released all of them to the public yet.
​Playstation 5 Specifications 
​These specifications are confirmed by Sony and we have not included any that have been speculated.
​
| | |
| --- | --- |
| | |
| | 8x Zen 2 Cores at 3.5GHz with SMT (variable frequency) |
| | 10.28 Teraflops with 36 CUs at 2.23GHz (variable frequency) |
| | |
| | |
| | |
| | Comes with custom 825GB SSD, however, it also includes an NVMe SSD slot and USB HDD Support for external storage space. |
| | |
| | 5.5GB/s (Raw), Typical 8-9GB/s (compressed) |
​
Xbox Series X Specifications
​​Again, these are all the confirmed specifications from Microsoft. There are more speculated specs, however, we have not included them.
| | |
| --- | --- |
| | |
| | 8x Zen 2 Cores at 3.8GHz (3.6GHz with SMT) |
| | 12 TFLOPs, 52 CUs at 1.825GHz |
| | |
| | |
| | |
| | |
| | HDMI 2.1, 3 USB 3.2, networking port, power input, slot for expandable storage |
Performance and Backward Compatibility
​Now onto what everyone is most interested in when it comes to the PlayStation 5 and the Xbox Series X – how they actually perform. As neither of these game consoles have hit the market yet, we are yet to get a clear picture of how well they work and what is different between the two as well as their older versions, however, both Microsoft and Sony has released information that gives us a pretty good idea of how they'll perform when we finally get our hands on them. Below we'll be looking at the performance of both consoles so you can get a better understanding of what you're in for come holiday season.
Backward compatibility is the term used to describe a game console in which the user can play games made for older consoles on the new design. This is a great benefit for game consoles because the gamers will be able to play their older games, where they may have unfinished business, on their new consoles. This makes for happy customers who don't have to pay lots of money to have only a small library of games. We'll also discuss the backward capabilities of the PlayStation 5 and the Xbox Series X below.
PlayStation 5 Performance
Sony has been incredibly secretive about the upcoming PlayStation 5, making determining the performance all the more difficult than that of the Xbox Series X. Having said that, we're here to depict the little information we have and see what all the information indicates. First and foremost, the head architect of the new console, Mark Cerny, has stated that the new console shows a big generational leap from the older PlayStation 4.
Firstly, let's talk about the boost feature. An internal monitor within the PlayStation 5 is constantly working to keep the frequencies changing depending on the CPU and GPU levels. Instead of the console running at a set frequency which adjusts the power level, like most other consoles, the new version actually runs at a constant power level which makes the frequencies vary. This keeps factors that should lower the performance at bay and keep the gameplay consistent and enjoyable. Cerny states that this will vastly affect the performance of the PlayStation 5, for the better of course.
The ray-tracing capabilities of this new PlayStation are nothing like PlayStation gamers have ever seen before and are integrated into the console so work on whatever game you're playing. In fact, the ray-tracing mimics that of which can be found in PC games, including reflections, lighting changes, and shadows. This enables your game to be lit more naturally so it's not so obvious that you're playing a game.
Sony has made a big deal about the new SSD within their new console, which helps greatly push it into this new generation. The loading screen is going to be much faster than anything we've ever seen, and you may be waiting for mere seconds to get into your game. The SSD allows much faster rates than older generations of consoles, opening up a whole new world of gaming. We're not quite sure how, but this is going to impact gaming greatly.
The CPU has been upgraded from the Jaguar CPU from the PlayStation 4 to the impressive Ryzen CPU. Many people were disappointed with the former CPU as it was considered weak and not very versatile. Alternately, the new CPU will allow game developers to create more complex and realistic open worlds. If you're an avid simulation gamer, the possibility of open worlds might be the best news ever.
Moving onto the controller, the new model will involve subtle vibrations to send signals to your hands to mimic what your character is going through on your screen. The controller will also feature adaptive triggers which means that the trigger buttons will feel different depending on what's going on during that specific scene of the game. Different actions will feel different, which opens up a new level of immersive gaming. The fact that the controller enables your game to reach another one of your senses really encapsulates you and almost transports you right into the game.
Backward Compatibility
Sony has confirmed that the PlayStation 5 has backward compatibility with the majority of PlayStation 4 games. After some uncertainty, the developers are now testing as many PlayStation 4 games as possible to make sure the new model can support older games. This is true for both digital and physical games, and the better performance of the new version will enable these games to play more impressively. Although Sony has not confirmed or denied whether you'll be able to play games from the PlayStation 1, 2, and 3, there have been rumors that the PlayStation 5 will support them.
Xbox Series X Performance
Beginning with turning the Xbox Series X on, the high-quality SSD card enables the loading screens to be very fast and won't have you twiddling your thumbs while you're waiting to actually play the game. We've all been there where we're in the mood for a quick Grand Theft Auto session, but by the time the loading screen disappears, we've already studied each image 20 times, and our desire to play the game has dissipated. The promise of quick loading times makes us hopeful that this won't be the case with our new console.
An interesting development in the performance of the newest Xbox console is that it will support 8K gaming and the frame rate will be up to 120fps, making your gameplay incredibly realistic and immersive. To further this, the ray tracing feature will make lighting and reflections more consistent and believable. The refresh rates will also be varied which makes the smoothness of your game less jarring and more seamless as well. If you have an 8K television and are looking for a console that allows you to forget the outside world, the Xbox Series X is an excellent choice for you.
The quick resume function will let you switch through multiple games by holding the ones you're not playing at that current time in a suspended state so that you can come back to them after you're finished on your other games. This is particularly helpful for people who like to chop and change between multiple games at once, as you can do this without risking your progress.
Xbox has teamed up with the HDMI forum to bring you innovation like never before. Just one of the features to come from this unique pairing is the Auto Low Latency Mode, which automatically sets the display on your television to the lowest latency mode. This mode enables your gameplay to remain high quality while not compromising the responsiveness of each frame. This keeps you from having to experience annoying lags and ensures you can play any game without interruption.
Backward Compatibility
Luckily for all the Xbox gamers out there, the Xbox Series X will be backward compatible for all Xbox One games, as well as Xbox 360 and original Xbox games which feature backward compatible capabilities. What's more is that thanks to the impressive specs and performance of the new console, these older games can be seen through higher quality pictures and frame rates, making them better than ever before. The fact that you can play thousands of games as soon as you get this console is a really impressive feature.
Moreover, you can relax in the knowledge that when you buy a game, you only have to buy it once and the smart delivery feature will ensure you'll get the correct version for whichever console you're playing on – either the Xbox One or the Xbox Series X. This keeps you playing the best possible version of your game and keeps you from a disappointing performance.
Consoles Design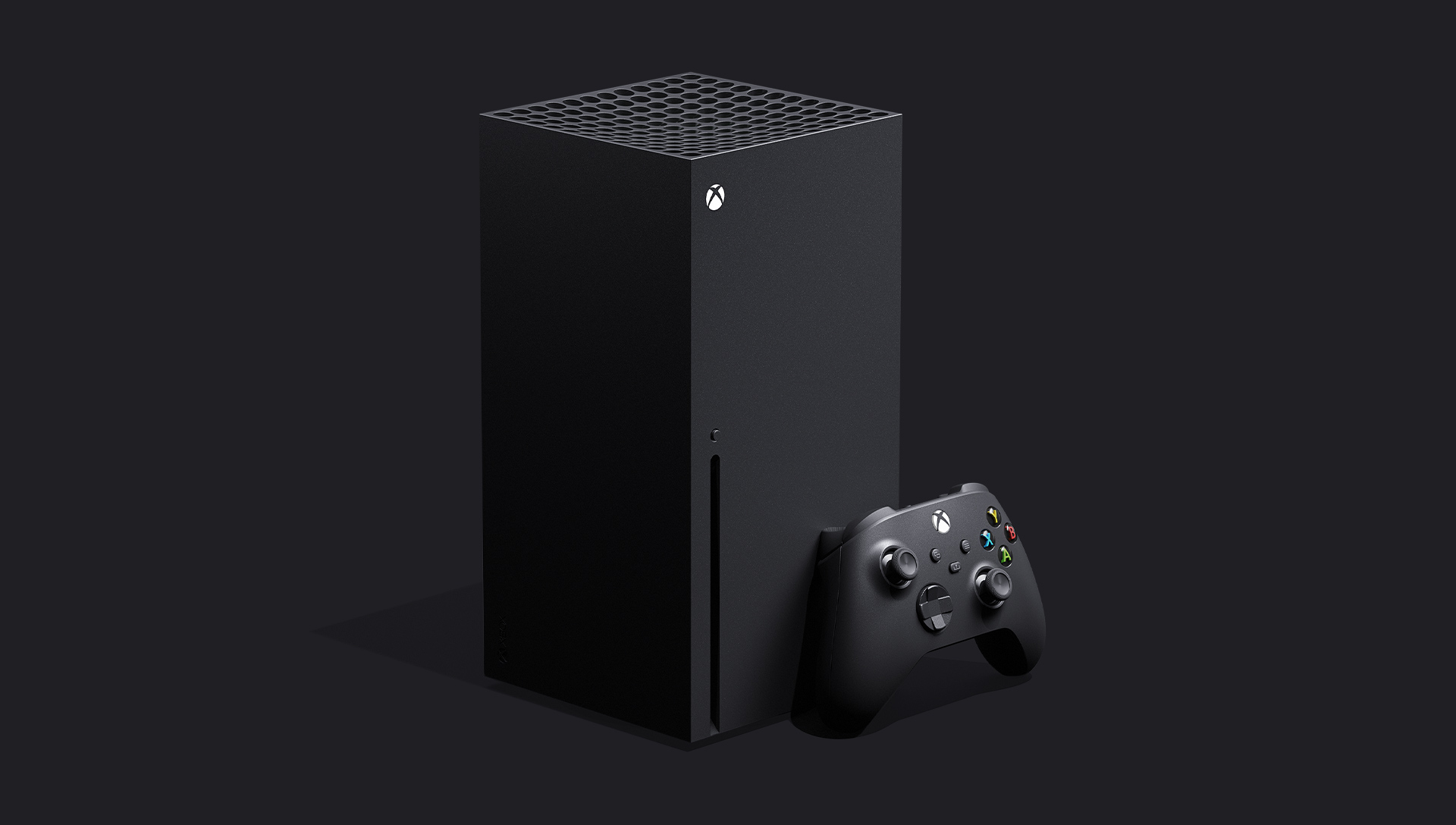 Photo credit: Microsoft
Both the predecessors to the PlayStation 5 and the Xbox Series X were revolutionary when it came to their design, and they were considered beautiful in their own right. You may not consider the design being the most important factor when it comes to buying a new games console, but it actually goes a long way in drawing new customers in. Not to mention people love to brag to their friends about their new purchases, and it's no different for a console. When people come to your house after you've just received your shiny new model, you're going to want to show it off and make them envy you, right? A low-quality hunk of plastic isn't going to pack the punch that you're wanting, so console design teams have a big task to do.
PlayStation 5 Design
Unfortunately, Sony is keeping their cards close to their chest with the design of the long-awaited PlayStation 5, so what it is going to look like is still a big mystery to all the fans. Having said that, they have unveiled the design for the new DualSense controller which is going to be paired with this console, so people have been creating mock-ups and posting them on the internet for the fans to marvel at. Although this is all speculation, it's interesting to see what the general public is envisioning for the new release.
Having said that, there has been speculation that the design patent of the new PlayStation 5 was leaked as early as August 2019. On the design patent, that was supposedly applied for in May 2019, the console is thicker than older consoles with a deep V-shaped cutout where the air vents are placed. The whole design is very compact and futuristic and seems like a plausible new design for the PlayStation 5, however it is completely possible that this is fake to throw fans off the scent. Take this design with a pinch of salt.
Thanks to the unknown reliability of this design patent idea, many fans are still creating their own version of the new console while we wait for the official unveiling. Many people are thinking that the PlayStation 5 design isn't going to stray too far away from the PlayStation 4 design, as if you look at all the previous models you can see a general theme across the board. However, due to the recent unveiling of the DualSense controller – which is predominantly white with black accents – some others are speculating that the new console will copy this two-tone design.
Others have taken inspiration from the blue light shining through behind the plastic on the DualSense controller and created their design ideas around this. In fact, a lot of speculation revolves around blue accents, much like the ones found on the new controller. These are often found placed on variants of the traditional black box design that has been used for PlayStation consoles since 2000.
The final design that people are leaning towards is much like the Xbox Series X design of a standing oblong shape, not dissimilar to an Amazon Echo shape. However, instead of a square or circular shape, this design is made up of five sides to accommodate space for the disks. This is perhaps the most interesting and thought-provoking fan idea – is it likely? We'd say unlikely, but who knows!
It has been hinted that the official design will be shown at an event named 'PlayStation Meeting 2020', so make sure you keep an eye out for this name if you're wanting to be one of the first people to see the new console.
Xbox Series X Design
Unlike the mysterious PlayStation 5 design, Microsoft actually unveiled the new design of their Xbox Series X way back in December 2019 at the annual Game Awards. Unlike any of the previous versions of the Xbox, this design strays completely from the norm and actually adopts a standing tower design. The innovative console measures in at 30.1cm x 15.1cm x 15.1cm, so you can see that it is a perfect square shape which has been stretched upwards.
Some people have expressed their confusion and potential dislike to this new design, however, if you are skeptical about how to incorporate it into your setup due to its unusual height, it is worth noting that you can also lie it on its side without risking damaging it. Personally, we think that the new shape is very clever in the fact that more people are living in smaller spaces and perhaps need a more compact console to fit into their space. Moreover, the design is minimalistic and shouldn't stick out in any room with a set design.
The design of the Xbox Series X pays resemblance to the popular Amazon Echo that was released in late 2014. More and more people are purchasing these devices and keeping them in their homes without issue, so perhaps Microsoft wanted to mimic this design which has proved very popular. It is slightly taller than ​the Amazon Echo, however, you get the idea.
This new console is so minimalistic that the only features on the front of the model is a ting Xbox logo in the corner, and the disc drive which is almost unnoticeable. Comparing this to the previous designs of the Xbox consoles, it is very noticeable that the new version is much thicker and shorter than the Xbox One. In fact, it looks nothing like any of the previous designs which may be refreshing to new and old Xbox gamers.
The new Xbox Series X looks like a hybrid between the older Xbox designs and the classic GameCube design, but is this a good thing? Many people may like the nostalgic feeling that this provides, but how practical is it really? True, you can lie it on its side to make it a little more like the older designs, however, it would still reach up to twice as thick as the Xbox One design, which measured in at 33.3 x 27.4 x 7.9cm.
Controllers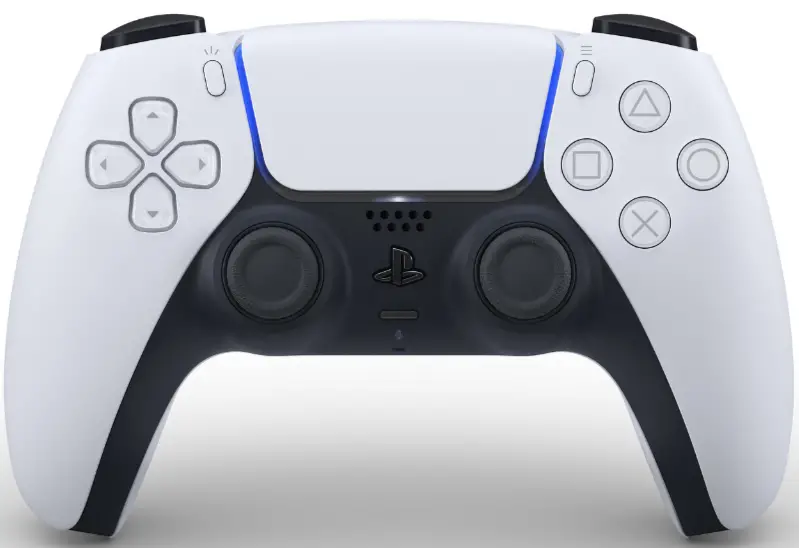 Photo credit: Sony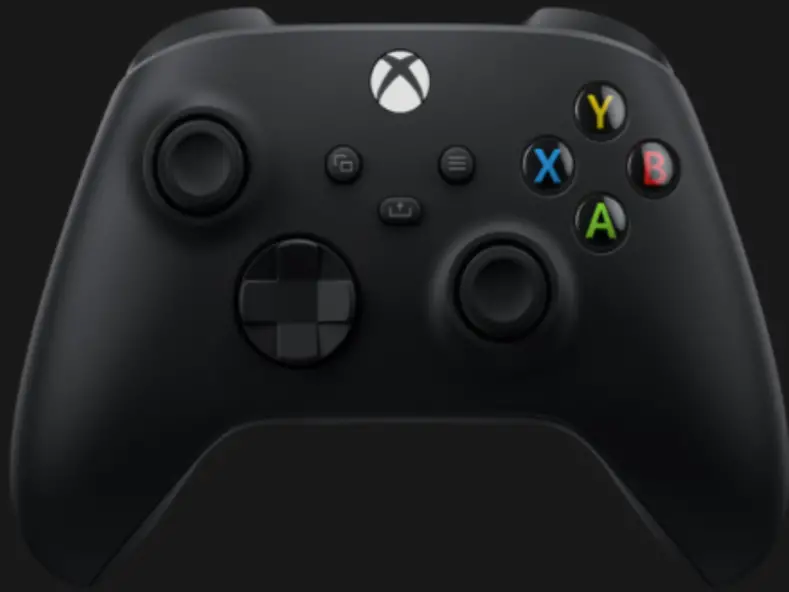 Photo credit: ​Microsoft
​Both the PlayStation 5 and the Xbox Series X come with new and improved controllers which have never been seen by the public before. That's the beauty of gaming consoles compared to computers. You don't require a gaming mouse or a regular mouse. 
After all, a whole new gaming station isn't complete without a state-of-the-art controller which you have to get used to again, right? Let's discuss the two new controllers that you'll be able to get your hands on soon.
The DualSense Controller
Along with the PlayStation 5, you'll also receive the DualSense controller with your console. This controller is wireless and aims to capture and manipulate your senses when you're playing with virtual reality games, as well as aiming to be much more inclusive and easier to play with for other games. Even if you're not playing with virtual reality, the DualSense makes your gameplay all the more immersive and intense.
Forget everything you thought you knew about the DualShock controller that came with previous models – the new DualSense adopts a new design to give you a full-body experience when playing all of your games. Instead of simply driving off-road and swerving onto the grass with no afterthought, you will feel all the struggle and persistence that the tires are going through as they try to battle through the grass – perhaps even convince you that you have swapped places with one of the rubber tires in your game.
The design of the DualSense controller is impressive and you really get the feeling that the PlayStation design team put a lot of effort into making it more accessible for every gamer. The angle of the triggers have been altered so that you can get a firmer grip on the handles, there is a built-in microphone so you can enjoy multiplayer games without a bulky headset, and the controller is actually two colors – white and black – instead of the traditional block black color.
Lastly, the DualSense rechargeable battery has a much longer life than older controllers, making it possible for you to play your games for much longer without having to stop to plug your controller in. PlayStation has made this possible without compromising the weight or size, so don't worry about trying to work your way around a bulky controller. Overall, the DualSense has a really sleek and beneficial design to enhance your gaming experience.
The Xbox Series X Controller
Opposed to the new controller that comes with the PlayStation 5 which features a few design tweaks, the design for the Xbox Series X controller is rather similar to Microsoft's traditional Xbox controller shape. The Xbox design team adopted the mentality that small changes can create large impacts, and therefore they've developed the new model to aid the mission of keeping the Series X focused on creating experiences that go deeper than ever before.
One thing is for certain – Xbox gamers absolutely loved the current controller that comes with the older generations of Xbox. If you're one of the many who abide by this, you may be cautious of a new controller as if it's not broken, why fix it? Luckily for you, the design team has taken this into consideration and kept a lot of the features that made the current model so well received.
The shape of the controller is slightly altered to accommodate more gamers with different sized hands. If you've ever played with an Xbox controller, you'll know that the handles are quite thick and therefore are sometimes difficult to get a good grip on when you don't have the largest of hands. This allows people of all ages and sizes to play with the new model, even children who are wanting to be introduced into the gaming world. Moreover, the bumpers and triggers have been rounded and redesigned, and the grips have been paid particular attention to ensure maximum comfortability.
The D-pad has been reshaped to be optimized for everyone, no matter what games you like to play. The middle of the D-pad actually dips in to house your thumb so that you can use the controls with minimal movement. Anyone who's played a fast-paced game will know how helpful it'll be to not have to feel around for the right button and rather simply move your thumb in the general direction.
While both of these controllers that we've looked at above have an improved grip and shape, one of the most noticeable changes is that the DualSense controller has lost its 'share' button, while the Xbox controller has gained one. Don't worry, the DualSense model actually adopts a 'create' button instead, so you'll still be able to capture your gameplay to wow your friends.
To sum up, both the PlayStation 5 and the Xbox Series X comes with new and improved controllers which have been tweaked to accommodate the players' overall consensus. This has been taken from the feedback that the previous models received, so rest assured that these two new models should make the respective players very happy and enhance their gameplay.
Playstation 5 Unreal Engine 5 Tech Demo
Xbox Series X vs Playstation 5: Release Dates
​Both the PlayStation 5 and Xbox Series One have been confirmed to be coming out in the holiday period of 2020. The holiday period runs from Thanksgiving all the way to New Years Day, so we can expect both of these consoles to be released anytime from October 2020 to January 2021. Don't lose all hope of getting your new plaything before the end of the year, though, as it is likely that both the PlayStation 5 and the Xbox Series X will be released just in time for the gift-giving holiday of Christmas.
The PlayStation 5 was previously hinted at being released earlier in the year, however, it is believed that the launch has been pushed back to become more competitive with the Xbox Series X. Many gamers know that the E3 expo is the place to be for all gaming news of the year, but unfortunately the event has had to be canceled due to Covid-19 concerns. It is rumored that E3 is where Sony had planned to disclose the official release date as well as more product information, so we'll have to wait to see whether they do something else to release all of this information around the same time.
Alternatively, Sony could wait until the GDC 2020, which is being held virtually in August, to reveal all this additional information. Many people and sources have speculated that the design of the console might be unveiled at an event called 'PlayStation Meeting 2020', so Sony may also be planning to tell us the release date here as well. Watch this space!
Moving onto the Xbox Series X release date, we've already said that Microsoft is planning to release its new console during the holiday season of 2020. However, an interesting fact in the speculation for when the exact date is is that when it was unveiled that the Xbox Series X was in the works and would be gracing our homes sometime soon, a lot of product pages were displaying an image that displayed the words 'Coming Thanksgiving 2020'.
Could this mean that the new Xbox is going to be released on 26th November 2020, which is the date of Thanksgiving? Or does it just mean around Thanksgiving? A spokesperson for Microsoft stated that this was a mistake and clarified that the release window was actually the holiday season of 2020, but maybe this is to throw us off the scent and keep us guessing? Or was it a genuine mistake? So many questions that we want answered, but we're just going to have to wait for the official announcement.
During the Covid-19 situation, many gamers are worried that their game consoles are going to be withheld and the release date is going to be pushed back due to manufacturing concerns. As of right now, neither Sony or Microsoft has expressed concerns about this and as far as we know are still aiming to release their products in the holiday season of this year. However, this may indicate why the two companies are reluctant to give us any concrete information.
Xbox Series X vs Playstation 5: Price
​There is less than six months to go until both the PlayStation 5 and the Xbox Series X grace the shelves and therefore our homes, and one of the most asked questions has to be: how much are you going to have to spend on your chosen model? We all know that game consoles are not cheap and therefore the price of each model has been a big talking point since the announcement that they were in the works. There have been multiple sources that confirm each of the prices of both Sony and Microsoft's new additions so that we can start saving without feeling guilty when we spend a great chunk of our money.
Beginning with the Playstation 5, there have been rumors circulating since early 2020 that the newest model will cost $499, or £449. This seems to have been leaked from a third party developer who was helping create the PlayStation 5 or a game to go with it. While Sony has not confirmed nor denied this rumor, there have been multiple sources to back the claim and further indicate that if you wanted to purchase the PlayStation 5 as soon as it comes out, you'll be looking at paying around $499 USD.
In comparison, Microsoft has also remained quiet about an exact price for the Xbox Series X and there have been no rumors or leaks, unlike for the PlayStation 5. This means that we'll have to do some speculating and guesswork while considering what we already know from the past. For example, the Xbox One X (the most recently released model from 2017) was launched with a price tag of $499. Considering that Microsoft has marketed their new console to be the most powerful model in their portfolio yet, we would perhaps predict that the price would be similar or even higher than this benchmark.
Having said that, Microsoft's main competitor is Sony when it comes to their game consoles, and considering that they're both being released around the holidays of 2020, Microsoft may want to make the price of the Xbox Series X more competitive and therefore similar to that of the Playstation 5. Again, having said that, as Xbox and PlayStation both have cult followings the price difference may not matter that much as a lot of Xbox gamers aren't going to mind an extra $50 for their favorite console.
Overall, we don't know how much either of these consoles are going to cost yet, however we have a pretty good idea that they'll both be around the $500 mark.
Now before I get into the final discussion you can check if Xbox Series X supports dual monitors.
Conclusion
​That concludes our in-depth look at the PlayStation 5 vs. the Xbox Series X. While there is no clear winner as to which console you should buy this holiday season, there are definitely some defining factors that separate one console from the other. It is also difficult to distinguish which is the superior model because most things about the two are still being speculated and there is no concrete proof in some regards.
For example, we'd say that the PlayStation 5 wins with respect to the price due to the indication that the Xbox Series X will be priced higher than its older models, and therefore more than Sony's console. However, as this is all speculation we cannot definitively say that this is the truth.
Having said that, from what Sony and Microsoft have released to the public, we can see that these two models are rather similar when it comes to their specs and performance. They both have SSD cards which make for quicker loading times, they both have ray tracing to cast better shadows and reflections in games to make them more believable, and their CPUs have been upgraded from the Jaguar CPU to make for better game development.
Both models are also backward compatible with their older counterparts, however, you'll be able to play games from all generations on the Xbox Series X, while the PlayStation 5 will only definitely support games made for the PlayStation 4.
The design of both consoles is where they differ the most, with the Xbox Series X's completely unique tower design. Although we don't know the PlayStation 5's design yet, we can be pretty certain that it is not going to mimic that of the Xbox's.
Something that has been revealed for both consoles, however, is the controller. Both the DualSense controller and the Xbox Series X controller have minor changes from the previous design, however, the DualSense controller has definitely seen the most change. Both controllers have been designed to accommodate every gamer and they both have new technology to make the gameplay more immersive, such as subtle vibrations and pulses.
The release date is yet another similarity between the two consoles and tell us that the consoles should be out by the end of the year. So, time to stop reading and start planning for where our new game console is going to go!
Read also: Why You Want a Graphics Card Backplate on Your GPU