The GeForce shows different codes to indicate different problems with this streaming platform. And mostly the solutions are pretty simple.
So, what to do with GeForce now error code 0x800b1004?
The GeForce Now error code 0x800b1004 means there is a connectivity issue between your device and this platform. To fix this code, ensure a proper network of your device or restart the GeForce software. Also, make sure the server status is operational, the driver is updated and your firewall isn't blocking the software. You can also use VPN to fix this issue. 
You have to perform the troubleshooting process by trying out different solutions. Know more, keep reading! 
What Does Geforce Now Error Code 0x800b1004 Code Mean?
The 0x800b1004 error code on GeForce now means this streaming service can not be connected to your device. In this case, you get this message " There was a problem connecting to geforce now error code 0x800b1004". 
It can happen due to the connectivity or network issues of your device. It can also occur due to the server issue of GeForce Now.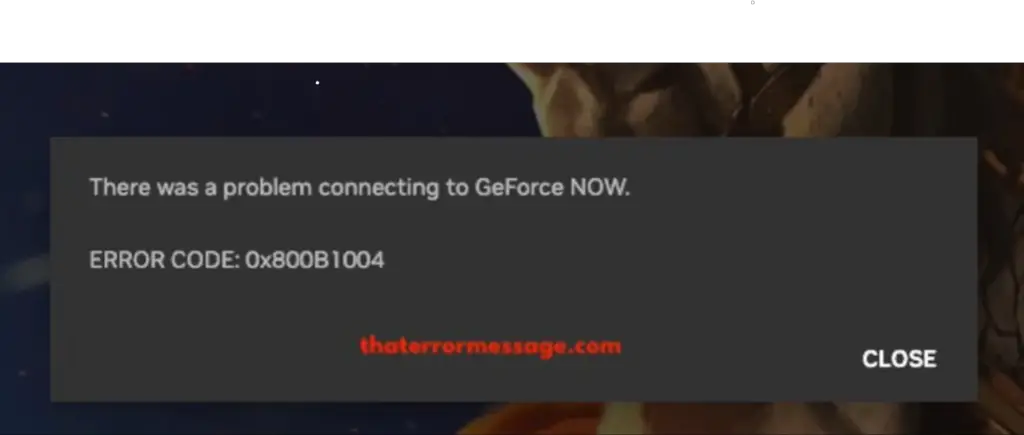 How To Fix Geforce Now Error Code 0x800b1004 Code?
There can be several reasons behind this code so you have to troubleshoot different things. Here are the solutions you can try.
Step 1: Check Your Network
First of all, you have to check your network. Make sure your router, ethernet, or modem is turned on and is working fine and there is internet connectivity. You can turn Off the router and turn it On again to be sure.
Also, make sure your device is connected to the internet. You can disconnect the network and reconnect to be extra sure. If your internet connection is okay but you are still having the issue, go to the next step. 
Step 2: Restart The App
The easiest solution you can try to get around this issue is restarting the GeForce App. It works for many users as it fixes minor bugs. 
Go to the next step if it doesn't work. 
Step 3: Check The Server Status
Sometimes GeForce Now can be down due to maintenance or other problems. In this case, you will get the error code 0x800b1004. To check if the GeForce service is down or not, go to their status page and check for status. 
If the status is showing "Under Maintenance", you have to wait till the status turns to Operational.

If the status is operational for your region, go to the next step.
Step 4: Check Your Firewall
Sometimes the antivirus or firewall of your device interrupts the GeForce Now software or app. And the firewall doesn't let the GeForce Now connect to your device. Check your antivirus and firewall and make sure it's not blocking GeForce Now.
Here's how to check the firewall. 
Click Windows Key + R

Type "Control" on the search bar and press "Ok"
Click "System and Security". 
Select "Windows Defender Firewall"
Scroll down on the allowed app window, and find GeForce Now. If this app is unchecked, it's blocked. Check the GeForce Now and click "Ok". 
If you can't unblock GeForce Now from your antivirus program, disable it temporarily while using Geforce. However, be careful while browsing with the antivirus disabled. 
Step 5: Clear Highlight Gallery
Sometimes, when there are too many documents saved in the GeForce highlight gallery, it can cause problems while connecting. Clearing all data from the highlight gallery can fix this 0x800b1004 error code issue. 
Locate where your NVIDIA highlights are stored and clear all the data. Although, by doing this, you will lose all the previously saved images and videos. So, you can have a backup of the important data elsewhere. 
Step 6: Use A VPN
Using a VPN can help you with fixing the 0x800b1004 code or connection problem. Install a reliable VPN and connect it while using GeForce Now. Here are some reliable VPNs you can install. 
NordVPN

Surfshark

Private Internet Access

ExpressVPN
Step 7: Update Your GeForce Drivers
If the GeForce Driver of your device is not up-to-date, it can cause problems with the GeForce Now connectivity. 
Go to the Device Manager of your computer and update the GeForce Driver. To navigate the device manager, follow these routes 
Windows 10, 11: Click Windows + R button > Type devmgmt.msc > Click Ok
Ubuntu: System > Administration > Device Manager.
For Linux, accessing the device manager process can be different. There is nothing directly called Device Manager in Linux. 
You can also download the updated driver from the NVIDIA official website and install it. 
Step 8: Reinstall Geforce Now
There can be a problem with the currently installed version of GeForce Now on your device. It can cause a connectivity problem. 
Uninstall the current GeForce Version. Go to the official website of GeForce Now and download the latest version. Install the software or app and try connecting it. The following video will help you with the installation and setup process of GeForce Now. 
Reinstalling the software can solve other problems of NVIDIA software like the NVIDIA ignore film grain error issue. 
Step 9: Contact NVIDIA Support

If none of the above solutions work, there can be a complicated internal problem. In this case, you should seek support from NVIDIA.  You can ask them questions or go for a live chat to address your concern. Also, make sure to keep the NVIDIA serial number close by. The customer service provider may ask for it for further assistance.
Frequently Asked Questions (FAQs):
What Is Error Code 126 In GeForce Now?
Error code 126 in GeForce Now is an error message that appears when the graphics driver is corrupted. It can also appear if the driver is outdated. To resolve this issue, you have to uninstall the current GeForce driver and reinstall the latest driver. 
What Is GeForce Error Code 0xc0f1103f?
The GeForce error code 0xc0f1103f  is a message that indicates the server of GeForce in your region is down. The server can be down due to maintenance or other problems. To follow the server status, you can visit the GeForce Now service status site. 
How To Know If GPU Is Damaged?
If your GPU is damaged, you will notice frequent and significant glitches while playing games. You will also hear weird fan noises and notice significant frame drops. The blue screen of death will also occur more often. 
Conclusion 
Here go all the solutions for the GeForce Now error code 0x800b1004 issue. I hope you were able to fix the problem after reading this article. 
The customer services of GeForce are top notch and the forums are also very active. So, if you can't solve the problem by yourself, just as on those platforms. 
That's all for now. Goodbye!