One of the buggier aspects of MSFS is its logbook. Many users like myself fly for hours only for it not to get logged. Well, if you're facing the same issue today, then fret not! I have come to you with the solution.
So how do you fix the MSFS Logbook Not Working?
Turning the developer mode off, signing in again, or using an alternative are all practical solutions to MSFS logbook not working. If you don't want to switch to an alternative and nothing else is working for you, then just wait for an update since Microsoft will fix it soon enough. 
I know that wasn't enough for you, so I'll first explain the reasons before moving on to the solutions. 
Why is MSFS Logbook Not Working?
MSFS Logbook doesn't work if your developer mode is turned on. Furthermore, conflicting community items, buggy updates, and some specific bugs also cause the logbook to stop working. 
Some of these reasons are the same behind the bugs of MSFS live weather.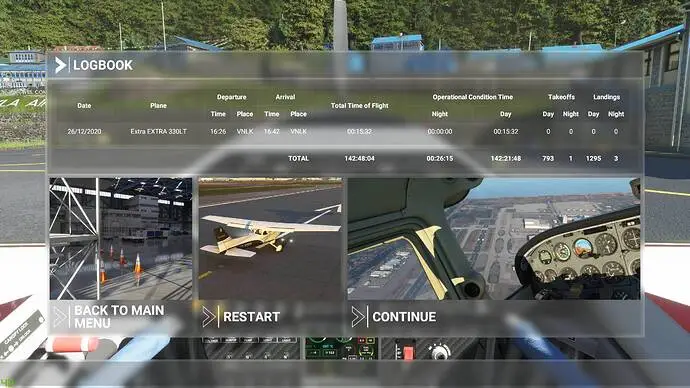 For those who are a bit short on time, here's a quick way to know the fix to your issue. 
| | |
| --- | --- |
| Reasons | Solutions |
| Developer Mode | Turn Developer Mode Off |
| Conflicting Community Items | Disable the Community Items |
| Buggy Updates | Update The Game or Use an Alternative |
| Account Warning Bug | Sign Out, and Then Back into Xbox Service |
Now for those who have the time, I will go into a detailed explanation of why these issues occur before solving them for good. 
Developer Mode:
Developer mode is the most common reason why the MSFS logbook stops working. Since Day 1 of the game, MSFS does not log any flights if the developer mode is turned on, even in the background. 
I've tried doing everything with the developer mode turned on, but nothing works. The root of the issue is developer mode. It is also not exclusive to only me; many people in the msfs community are facing the same issue. 
Conflicting Community Items:
There are many community mods for MSFS available online. However, some do interfere with the MSFS logbook. If they do conflict with the logbook, the logbook loses its functionality. 
That's one way it causes the issue; the other would be that if you have a lot of community mods installed, the chance of a bug increases. That's because you're technically modifying the game, and that often messes with the coding of the game itself when done too much.  
That, in turn, ends up messing with the MSFS logbook more often than not. 
Buggy Updates:
Buggy updates are one of the main reasons behind the logbook not working for MSFS. For example, many users of the sim faced this issue after the SU9 update, while some faced this issue after updating to 1.9.3.0.
While Microsoft did not provide details into the reason why these updates caused the bugs, they did patch it quickly. But if you still are facing the issue, don't worry; I wrote the solution later in the article. 
Account Warning Bug:
This is a specific bug where if you see the 'Account Warning' message before logging into the game, the session will be bugged. Logbook not working is a rather common effect of this issue. 
Some users on the flight sim community did face this issue, so if you're facing this one too, you're not alone. 
That covers all of the reasons; now, I'll move on to actually solving the issue. 
How To Fix MSFS Logbook Not Working?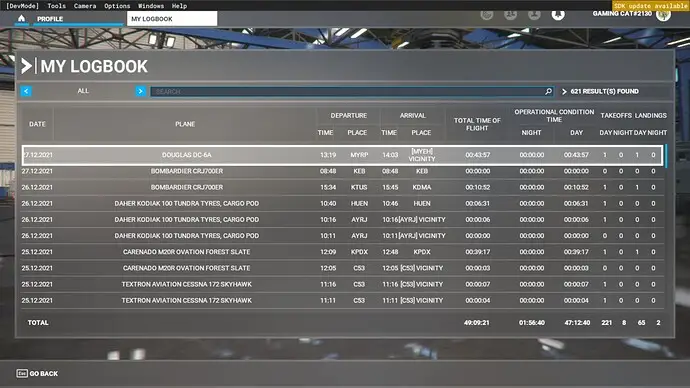 You can effectively MSFS Logbook not working by turning off the developer mode or using an alternative program. Sometimes, logging out and logging back in works fine.
Here are the detailed solutions for how you can make your MSFS Logbook work again.
Turn Off the Developer Mode:
The first solution I have for you today is simply exiting the developer mode. I used the term exit because there is a process for it. Here is how you can do it-
On the upper left screen, there is the menu for developer mode. Press on it. 
Select 'Exit' to exit the developer mode. 
That may seem like it will solve the issue, but it can actually cause the logbook to hang. To unhang the logbook, follow this process-
Make sure you complete all the objectives of your flight. To that end, keep the objectives window open.
Use ATC in a controlled airport to taxi to parking. Then make sure to turn off the engine and exit from the main menu.
Now, Refly, the most recent logbook flight. That should unhang it. 
Finally, check the date of the logbook to make sure the problem was fixed. If the date matches your recent flight, it is fixed. 
If this solution did not work for you, worry, not here's the next one-
Log Out and Then Back in:
When you see the account warning message before launching the MSFS, that's a bad sign. That means your logbook will likely not work this session. So what you need to do for this is sign out from the Xbox service and then sign back in. 
All you have to do is go to the Microsoft store, sign out, and sign back in. Then, go to the Xbox service and do the same. Then try relaunching your game. If it doesn't show the account warning message, you're all good to go. 
However, do check the logbook once again to make sure. If it still doesn't work, then there's only one surefire solution. Let's talk about that. 
Use An Alternative Program to Track Your Flights:
You could use Volanta or Simtoolkit Pro to track your flight instead of the included logbook with MSFS. The history of MSFS is fraught with bugs, and unfortunately, the logbook will not be completely bug-free, at least in the short run. 
So, what you can do is use Volanta or Simtoolkit Pro to track your flights. Those are relatively bug-free and easy to use. 
That is about it! This will also solve all your other MSFS issues aside from MSFS not using GPU at all. I'll now answer some of the frequently asked questions before concluding the article. 
Frequently Asked Questions (FAQs):
How Do I Reset My MSFS Logbook?
You can reset your MSFS Logbook by disconnecting and reconnecting. To be more specific, you have to press on your nametag and disconnect from there. Then connect again; after you have reconnected, the logs should be gone. 
How Do I Reset My MSFS Controls?
You can reset your MSFS controls by going to the preset manager and deleting your current profile. Keep in mind that you have to select the profile you want to delete first. Be careful not to select the wrong one. 
How do you Delete data on Microsoft Flight Simulator?
Go to steam and go to the properties of Microsoft Flight Simulator, then select 'delete local data' to delete all data on Microsoft Flight Simulator. You will have to download everything again though if you want to rerun it. 
Final Words
That's all for now! I hope my article was able to solve your MSFS Logbook Not Working issue effectively. What about it? So where are you going to fly next? Let me know in the comments below. Also here's another article on – How to share Robux with friends & people.