You have just lost the USB Receiver for Wireless Mouse and don't know what should I do to make it work again, right?
If your answer is Yes, then I'm going to help you solve your problem so that you can use your wireless mouse just like before.
There are several methods you can try such as you can give a try with a universal receiver. Or you can just contact the manufacturer. If you are using a Bluetooth mouse then you can connect it using Bluetooth. And if you're using Logitech wireless mouse then you can try using a unifying receiver. 
So, What to do If I Lost USB Receiver For Wireless Mouse?
In order to use the Wireless Mouse after losing its receiver, you can:
Re-connect your non-Unifying Logitech wireless Mouse with Logitech Connection Utility.
Get a Unifying receiver If you have a Logitech Mouse.
Contact the manufacturer to know If they can arrange a receiver for your wireless mouse.
Let's talk a little more about each of these solutions and in the end, I'll answer a few frequently asked questions that will clear your doubts on this topic.
Method 1: Re-connect Your Non-Unifying Logitech Wireless Mouse with a software
You can connect your Logitech's non-unifying wireless mouse to your PC/ laptop with the help of Logitech's software called Logitech Connection Utility. 
There is no doubt that getting a Unifying compatible wireless mouse has a lot of advantages but that doesn't mean that you can't connect a non-unifying mouse with a different receiver.
You just need to have an extra non-unifying mouse so that you can use its receiver to use your wireless mouse again. Just follow the instructions of the Logitech Connection Utility and you'll be good to go.
Again, this method might work only with Logitech's non-unifying wireless mice. There's no guarantee that it'll work for other brands.
Method 2: Get a Unifying Receiver If you have a mouse from Logitech
Logitech offers a receiver called "Unifying Receiver" that is compatible with all Logitech Unifying products.
To identify, whether your wireless mouse supports this feature or not, you have to find the logo of a "Unifying logo" in the mouse.
Here's how the Unifying logo looks like,
If you found this logo anywhere in your wireless mouse, then it means it is compatible with a Unifying Receiver.
You can easily get this receiver for a small price of just around $15 either from Logitech's official store or from Amazon.
As I said earlier, it is practically not possible to connect a wireless mouse with a receiver that is not provided by the manufacturer and it is very hard to purchase only a receiver for a specific mouse.
However, If your mouse is compatible with Unifying Receiver, then your problem will solve sooner than you may think. if you have bought a Logitech mouse in recent times, then there is a high chance that it is compatible with the Unifying receiver which is good news for you.
With this unifying receiver, you can connect up to 6 devices at the same time which is great If you have multiple peripherals to connect.
After purchasing the unifying receiver, you'll have to download the Unifying Software from the official Logitech site to connect your wireless mouse to your laptop or PC. Just follow the instructions while installing the unifying software and you can connect the mouse in no time.
Note: This receiver might not be compatible with a different brand's wireless mouse such as Dell or HP. Contact your manufacturer, get confirmation from them, and then get it.
Method 3: Get in touch with the manufacturer to help you
Contact the brand's support team and ask them If they can assist you to get hands-on another receiver for your wireless mouse.
It isn't very hard to contact the brand of the mouse you have. Just a simple Google search will give you the phone no. of their team. You can also visit the brand's official website If you can't find the correct contact information on Google.
In most cases, it is pretty hard to get only a receiver from the brand because of various technical complications related to that. Still, it is worth trying for sure as there are only a few ways to solve the issue you have right now. If you get lucky, you will get the receiver from the manufacturer, or else you'll have to find any other way to solve your problem.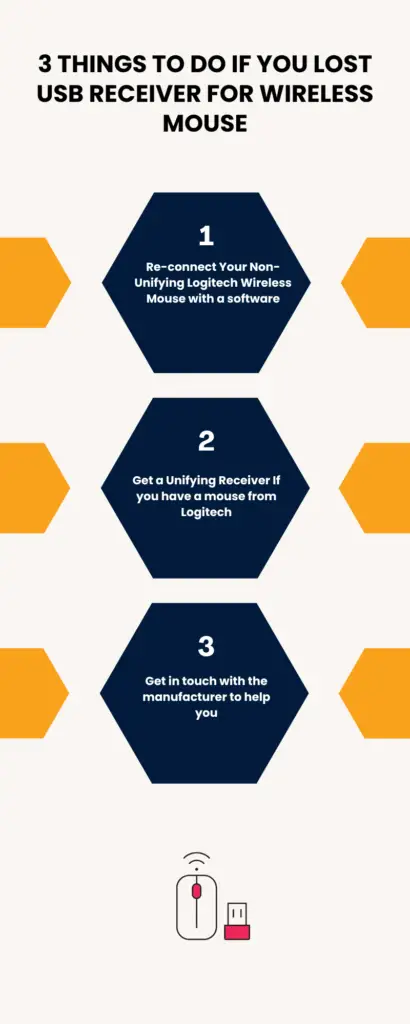 Nothing Works? Get a new Wireless Mouse
Getting a new wireless mouse is last yet the best option you have right now If you can't get the receiver for your wireless mouse.
I know this isn't the solution you're looking for because no one likes to spend extra money but unfortunately, you've to buy a new wireless mouse If you can't find the receiver even after following any of the above-mentioned methods. As I said earlier, unlike other problems in our computers, this issue has limited ways to solve and I've shared the best ways to solve this issue.
Let's move on to the next section that is going to clear a lot of your doubts and confusions.
Now What If You've Lost USB Receiver for Wireless Mouse And Keyboard Logitech
Now if you've lost the receiver for any Dell or Lenovo wireless keyboard and mouse then don't worry you can follow the same methods I've discussed above.
How does a Wireless Mouse Work?
Inside a Wireless Mouse, you'll find a transmitter that comes with a specific frequency to connect with its receiver. Also, there is a security code on each mouse that prevents other peripherals to connect it.
Generally, a lot of people connect multiple wireless peripherals to their PCs and wonder questions like can you connect airpods without case?
And that's the main reason that manufacturers provide wireless mice with these kinds of features.
Now, you have may have got an idea about how a Wireless Mouse Work. Let's see what you can do If you lost the receiver of the mouse.
One additional information for you is, since we're on the topic of mice you might find how to hold your gaming mouse very useful.
Frequently Asked Questions:
1. Can a different Receiver work with my wireless mouse?
The short answer to this question is NO.
If you want to use a wireless mouse of any brand, it must be compatible with the unifying software, frequency, and security code. Manufacturers offer wireless mice by keeping all these things in mind. Hence, it is not possible to use a different usb receiver for your wireless mouse.
2. Is it possible to use a wireless mouse without a receiver?
Unfortunately, no. It won't work without a receiver.
If the wireless mouse can't receive any frequency from a usb receiver , it can't work at any cost. Some people think to convert wireless mice to wired and I'm sorry to say that there is no practical way to do that. The best thing you can do in this situation is, buy a new wireless mouse or keyboard for yourself.
3. Can you replace a lost USB receiver with a new or different one?
It depends on the model and brand of the mouse which you are using right now.
As I have mentioned earlier in this post, If you have a wireless mouse from the Logitech brand, then there are two ways to solve your issue so that you can use that mouse or keyboard again. Read those points again carefully to clear your doubts. If you have a wireless mouse from other brands, you've to contact their team to help you out. Other than that, there is almost no other way to make your wireless mouse work again.
4. Why the Receiver of the mouse is so tiny in size?
A lot of people get shocked when they see the size of the logitech unifying receiver of a wireless mouse or keyboard after purchasing it for the first time. If this question has also crossed your mind, then you are not alone. The reason behind the small size of the receiver is very simple. Brands want to ensure that you don't get any trouble or confusion when their customer use their wireless mice for the first time. They want you to use their wireless mice in the simplest and the easiest way possible.
5. Can I use wireless mice on my PC/ laptop If I don't have Bluetooth feature at all?
Yes, You can.
You just have to purchase a basic Bluetooth USB dongle to use Wireless mice in your device If you don't have the wireless capability in your computer. You can get the Bluetooth USB dongle for just under $10 which might not be an issue for a lot of people.
After plugging the Bluetooth USB dongle into your device, you have to turn on the Bluetooth to connect and use the wireless mice. It is as simple as that.
6. Which mice are better? Wireless or a Wired one?
The answer to this question is pretty subjective. In some areas, Wireless mice are better whereas wired one has their own specialty. I can't share the entire differences between them but I'll share it in brief below.
* Wired mice don't require any type of charging whereas you have to charge the Wireless mice once in a while or replace the battery cell when it gets drained completely.
* Wireless mice are very convenient to use as it doesn't have any wire attached to them whereas you might be irritated with the wired mice sometimes.
* Wireless mice are relatively expensive when compared to the Wired one.
Final Words:
I know a lot of people get panic when they lose the logitech unifying receiver of their wireless mouse by mistake and think they won't be able to use their wireless mouse again.
If you are one of those people, then you don't need to worry at all. If you have a Lost USB Receiver For Wireless Mouse, then just follow any of the above-mentioned methods and you can make your wireless mouse work again in no time.
Also, if you are wondering can the hotspot owner see what i search, here is the answer! Also, check out the fix for google play keeps stopping!