Playing games on PC is more popular than ever and the requirements keep increasing. It's just not the matter of what graphic card you have any more, you will have to find the best gaming keyboard as well if you want to be competitive.
And that is no easy challenge. If you are playing a lot of games or writing a lot, having a mechanical keyboard is almost a must. The benefits could be many but mechanical keyboards respond to your clicks faster and they are often nicer to type on.
They are not mushy and the feeling of writing on mechanical keyboards is much better. Seeing how many mechanical keyboards there is and how many switches you have to choose between, it really is a jungle on the market. There is always a new keyboard launching with a set of new switches and more RGB.
It would be easy for me to feature 20 mechanical keyboards on this list, but I believe it doesn't give you as much value if I simply list all of them. After all, we are looking for the best keyboards on the market. They should offer a good value for its price and offer features that you will love.
Many of these keyboards can also be found with different switches so that you can pick the keyboard you want and then choose which type of switches that suit you the best.
Best Mechanical Gaming Keyboards – Reviews
[su_button url="https://www.amazon.com/dp/B01N5IISXY?&linkCode=ll1&tag=gamingsimplified0c-20&linkId=59664f4aa3ea97445f2994096d465bd7&language=en_US&ref_=as_li_ss_tl" target="blank" style="3d" background="#F33B19″ size="10″ center="yes" rel="nofollow"]Check Today's Price[/su_button]
| SPECIFICATIONS | ​ |
| --- | --- |
| Interface | Wired |
| Switches | Cherry MX Brown |
| Backlight | Full RGB |
| Macro Keys | 6 |
| Numpad | Yes |
| USB Pass-Through | Yes |
The first thing you note when you see the Corsair K95 RGB Platinum is how huge it is. I am using the Logitech G810 as my everyday driver keyboard and my first reaction is that the K95 can fit two G810s on top of it. But it's a sight to behold. The 6 macro keys on the left, the included wrist rest and the volume scroll on the top right looks great.
The K95 RGB Platinum is a new version of the old K95 and there a few things that have happened in this upgrade. First of all, Corsair has dumped most of the macro keys. While the old K95 did house 18 macro keys, the new RGB Platinum has six keys on the far left.
Personally, I have never used macro keys and I will continue to not to. From a gaming perspective, they are too far away from the rest of the keyboard. A big feature with the new K95 RGB Platinum is the RGB itself. Corsair is trying the limits of RGB on a keyboard and this time, it's not enough having RGB under the keys themselves.
The logo on the top is of course RGB, together with a strip on top of the keyboard that is there for no other reason than to look good and to bring more colors to your life. This is, of course, a mechanical keyboard and the switches that Corsair is using is different depending on configuration.
You can get the K95 with the usual Cherry MX Brown switches or the Cherry MX Speed, which is also known as silver. The difference between these two switches is that the brown switch will give you a tactile feedback when pushed down so that you know the key has been registered.
The silver switch is a shorter version of the MX Red switch. The required travel time is only 1.2mm while the brown requires 2mm. Both of these switches are quiet, and you will have to decide which switch you want before purchase. It is also worth mentioning that the brown version does cost a bit extra.
The reason I believe that the K95 RGB Platinum is because it has everything a gamer can wish for. RGB is standard today and a real gaming keyboard should have it (though, I use only white on mine). It has macro keys for those that are still using it. It uses switches from Cherry which are famous for their great performance in gaming.
It has an extra USB-port so that you can have your mouse connected to the keyboard and then run just one cable to the computer. I could go on about this keyboard but to sum it up, it's a complete keyboard. It doesn't come cheap, but no one did really expect that either. In the K95 RGB Platinum, Corsair has given it all to make the best gaming keyboard that they possibly could. I guess it's time to say congratulations to a job well done.
How Many USB Ports is Needed for This Keyboard?
To power the keyboard, only one USB 2.0 is required. However, if you want to use the USB pass-through, you will need to USBs connected to your computer.
How is the RGB Controlled?
You control the RGB by downloading Corsair's own software Corsiar Utility Engine (CUE). You can download it here.
What is the Difference Between the K95 Platinum and K70 Lux?
The K95 Platinum has 6 programmable keys on the far left which the K70 Lux doesn't. The wrist wrest is also bigger on the K95. There is more lightning on the K95, such as the Corsair logo and the bar at the top. I personally think that the lightning pops more than the K70 as well.
[su_button url="https://www.amazon.com/dp/B01BBKYM3I?&linkCode=ll1&tag=gamingsimplified0c-20&linkId=eee45cf3d371c50d86c087721b5734b4&language=en_US&ref_=as_li_ss_tl" target="blank" style="3d" background="#F33B19″ size="10″ center="yes" rel="nofollow"]Check Today's Price[/su_button]
| SPECIFICATIONS | ​ |
| --- | --- |
| Interface | Wired |
| Switches | Logitech Romer-G |
| Backlight | Full RGB |
| Macro Keys | 0 |
| Numpad | Yes |
| USB Pass-Through | No |
The Logitech G810 is a favorite keyboard of mine and it's the one that I am using every day. It has a minimalistic look and no macro keys as far as the eye can see. The result of this is a compact keyboard that would fit on most desks. It may not increase the wow-factor as much as the K95 but it's a great keyboard to type and game on.
Starting in the top right corner, we have all the media keys that you will need. Dedicated buttons for play/pause, stop and change track. The scroll wheel is there to increase or decrease volume and it feels much better to scroll a wheel than pushing a button to increase the volume.
We also have the option to turn off the sound completely, change the brightness of the backlight and enter game mode. The dedicated game-button on top of the keyboard will, by default, turn off the window-keys on the keyboard (there is two of them). But in Logitech's Gaming Software, you can change this to turn off any type of key that you find unnecessary during gaming.
The software is good at other things as well. If you want to change any of the functions keys to something else while playing a game, you can either create your own profile or download predefined profiles. At this time, there are a total of 597 games featured and the software will scan your computer and download the profiles for the games it can find.
You are also using the software to change the RGB settings. Logitech has multiple profiles included and the keyboard does support the standard 16.8 million colors. It's possible to do most things that you want.
Give each key its own unique color or do a color wave, whatever you please. For the G810, Logitech has implemented their own switches, called Romer-G switches. These switches are similar to Cherry MX Red switches in the feel.
The big difference is the design of them. While Cherry has a stick in the middle to fasten the keycap on, Logitech has a hole. The hole is surrounded by walls that hold up the keycap and in the hole, you can find the RGB.
This means that there is very little light bleed from the G810 compared to other keyboards that use Cherry MX. I wish it had a USB port and a wrist rest would have made the package more complete. But the strong points with the G810 is the small, minimalistic look, Logitech's software, and Logitech's proprietary switches. You can't go wrong with a G810.
Is the Logitech Software Needed?
No, it's not. You don't have access to all the customization but it's possible to change RGB modes by holding the lightning key and then press the 1-5 keys for changing modes.
Are the Keycaps Textured or Smooth?
All the keycaps have a smooth top, there are no textured ones.
Does it Come with Any Wriest Rest at All?
No, there is no such thing for the Logitech G810. You will have to purchase one separately. Logitech doesn't sell or provide one so any general wrist rest would do the trick.
[su_button url="https://www.amazon.com/dp/B07KWGSYQG?&linkCode=ll1&tag=gamingsimplified0c-20&linkId=93796555e7e3e7ed5f4b77231c4684b3&language=en_US&ref_=as_li_ss_tl" target="blank" style="3d" background="#F33B19″ size="10″ center="yes" rel="nofollow"]Check Today's Price[/su_button]
| SPECIFICATIONS | ​ |
| --- | --- |
| Interface | Wired |
| Switches | Roccat Titan |
| Backlight | Full RGB |
| Macro Keys | 0 |
| Numpad | Yes |
| USB Pass-Through | Yes |
The Roccat Vulcan 100 is a massive gaming keyboard that is designed to not only look great and offer incredible control during intense sessions, but also to stand up to years of use and abuse without showing signs of wear and tear.
The keys are not only perfectly designed to withstand damage, but they also are designed to prevent dust from building up, which can slow gaming and cause irreparable problems. All of the Titan switches used in the construction of this keyboard resist dust buildup.
Not only will the keys stay cleaner for longer, but they are also easy for gamers to clean, thanks to the shortened key caps. The aluminum top plate of the Vulcan 100 is anodized. Gamers love not only the way that this looks, but also the fact that it protects the inner workings of the keyboard. Thanks to this one additional feature, the keyboard is going to last for a lot longer without breaking or wearing out.
Some keyboards that are designed to be durable are also very loud, and this can make using them frustrating. This isn't true for the Vulcan 100, which has a debounced switch designed to stop chatter when pressed. Thanks to the use of high-quality components and materials, these switches stay quieter for longer. The Titan switches do more than simply prevent the keyboard from getting too noisy during a gaming session.
They were specifically designed to provide gamers with a precise and crisp keystroke. Rather than sacrificing a crisp feeling when pressing a key, when gamers choose this keyboard they can enjoy swift action without a lot of sound.
One cool feature of this keyboard is the AIMO illumination. This is a living illumination that is specific to Roccat. As gamers connect more AIMO-enabled devices and as they use their keyboard more, the functionality of this system grows. This lighting interacts not only with the computer, but also with gamers, which means that users will enjoy incredible functionality without any long setup time.
The keyboard changes colors and reacts to any clicks or presses on the keyboard and responds to individual users, creating a lightshow that compliments every gaming experience. This wired keyboard is loaded with features that make it a great option for gamers of any skill level. Not only does it have integrated media buttons and keys, but it also contains six programmable macro keys.
Programming keys allow gamers to enjoy fast connects and switching when playing. In the past, gamers sometimes had problems with their keystrokes all registering, especially when they were working quickly on their keyboard.
The anti-ghosting of this keyboard is advanced and impressive and ensures that all keystrokes register, no matter how quickly you type. With 512kb of settings and macro memory integrated into the keyboard, as well as an open key design, this keyboard appeals to gamers of all genres. One thing to be aware of with the Vulcan 100 is that the volume dial isn't accompanied by media keys, there isn't a USB bypass port, and there isn't a wrist rest. While the Swarm software is high quality, this sleek keyboard does have a few shortcomings that may make it the second choice for some gamers.
Does the keyboard Come with a Wrist Rest?
No, it does not.
Is the Keyboard Quiet?
As with many other mechanical keyboards, the keyboard is not quiet. It sounds like MX Brown for reference.
What's the Difference Between Vulcan 100 and Vulcan 120?
The Vulcan 120 comes with a wrist rest, but the keyboards are the same.
[su_button url="https://www.amazon.com/dp/B07NNZXNSZ?&linkCode=ll1&tag=gamingsimplified0c-20&linkId=ac685b8462da1b7f0d38c34a13c96939&language=en_US&ref_=as_li_ss_tl" target="blank" style="3d" background="#F33B19″ size="10″ center="yes" rel="nofollow"]Check Today's Price[/su_button]
| SPECIFICATIONS | ​ |
| --- | --- |
| Interface | Wireless |
| Switches | Cherry MX Red |
| Backlight | Blue |
| Macro Keys | 0 |
| Numpad | Yes |
| USB Pass-Through | No |
The Corsair K63 Wirelss keyboard is something special. It's a wireless gaming keyboard with mechanical switches as well as backlight. This keyboard is perfect if you spend a lot of time in the sofa playing games on the TV or just can't stand cables on your desk.
While there are many wireless keyboards on the market, most of them simply don't offer the same level of power or control, this Corsair keyboard offers the power of a wired keyboard but is loaded with incredible features.
Not only does it feature the media keys that you need to control your sound, but it also has all of the other keys that you need for intense gaming sessions. You can easily mute your sound or resume playback from your keyboard without having to reach for your mouse.
With incredibly low-latency Bluetooth wireless or the option to use a USB to wire your keyboard to your computer, you really can enjoy the best of both worlds. The 1280-bit AES encryption ensures that your keystrokes are all safe and protected when using the keyboard wirelessly, which will keep your data safe from hackers. When running wirelessly, this keyboard boasts 15 hours of power. It recharges quickly, making it a great option for use on the go.
Another reason why this keyboard is perfect for gamers who set up in different locations each time they play is because it is such a smaller size than other similar keyboards, but still offers a wrist rest for extreme comfort. Even with simultaneous keystrokes, gamers don't have to worry about whether or not they will register correctly, as the K63 features 100% anti-ghosting technology. This means that even during fast-paced games, every keystroke will register and help bring you closer to your goal.
Every single key can be customized, not only by changing the color of the key, but also by adding macros to each key. This allows for fast and furious keystrokes during games and allows gamers to enjoy a fully customized and immersive experience. You have to use the included software to make adjustments to the keys, but Corsair has done a great job creating a software that is not only user friendly, but also powerful.
Gamers can change their key settings quickly, giving them more time to enjoy playing games, and less time worrying about their key macros. The detachable wrist rest easily pops on and off of the keyboard and is designed to be incredibly comfortable, enhancing gameplay.
Unfortunately, Corsair doesn't offer a left handed alternative to the keyboard pad, making it a little tricky for some gamers to use and enjoy. Even though mechanical keyboards are known for being incredibly loud, the K63 is surprisingly quiet.
The keys depress easily, but still offer some resistance, allowing users to enjoy a firm and crisp feel when typing or gaming. By relying on Cherry MX key switches, this keyboard offers accuracy and reliability that is basically unmatched with other similar options. A few issues that some gamers may run into include keycaps that pop off incredibly easily and a loose USB connection, which means that headphones and mice can easily pop out of the keyboard once plugged in.
Is There a Left-hand Alternative for This Keyboard?
No, there is currently no left-hand version of it.
How Long Does the Battery Last?
Without backlight, the battery will last 75 hours according to Corsair. With backlight on, this is reduced to 10-25 hours depending on the brightness of the backlight.
Is it Possible to Remove the Wriest Rest?
Yes, it is.
[su_button url="https://www.amazon.com/dp/B074536KKX?&linkCode=ll1&tag=gamingsimplified0c-20&linkId=84df1404829b4fdafb49d5985b1bb307&language=en_US&ref_=as_li_ss_tl" target="blank" style="3d" background="#F33B19″ size="10″ center="yes" rel="nofollow"]Check Today's Price[/su_button]
| SPECIFICATIONS | ​ |
| --- | --- |
| Interface | Wired |
| Switches | SteelSeries QX2 |
| Backlight | Full RGB |
| Macro Keys | 0 |
| Numpad | Yes |
| USB Pass-Through | No |
As a gaming brand, SteelSeries have their own keyboards as well. These keyboards are not using the Cherry MX switches either but instead using switches made by SteelSeries. When it comes to the Apex M750, SteelSeries has been focusing on the e-sport and thus, placed the bar really high.
The switches are called QX2 and their primary goal is to react fast. When playing a game, it's easy to say that they do. Everything feels quick and responsive. If you have ever been using MX Red switches, the QX2 is kind of like them but without the little feedback that the MX Red provide.
The biggest problem I found with these switches is the sound they make. They are really loud and if you hate that mechanical noise, this is the wrong keyboard for you. There are a couple of things missing on this keyboard. A wrist rest exist but it is not included in the purchase.
You will have to purchase it yourself from SteelSeries website. I would have preferred to pay $10 more and have it included. Also, the keys are very high, creating a lot of light leak from the RGB. If you want the whole keyboard in RGB, this is the keyboard for you. There is also no option to adjust the height sadly. This keyboard is great for MOBA or FPS players but for MMO or RPG games, I would choose another keyboard. I am missing the tactile feedback when I am typing, something that I am doing more in those genres than FPS games.
How Loud are the QX2 Switches?
Very load. Check out the video below for a sound test.
Which Software is Used for Lightning Control?
You use SteelSeries Engine to control this keyboard, which is the best software from a manufacturer, in my own opinion.
What's the Difference Between the Apex M750 & Apex M750 TKL?
TKL is a version of this keyboard that is much smaller. It doesn't feature the numpad. It can be purchased at SteelSeries website.
Top 5 Best Mechanical Gaming Keyboards
What makes a keyboard mechanic is the switches underneath the keys. Before mechanical keyboards became so popular, another technique was used. It is called membrane and is using another way to register the key.For gaming, the key has to be registered fast.
The mechanical switches will allow that and will give a faster response than older membrane keyboards. There are also many different types of switches and they all behave differently. The most common brand is Cherry MX. Their switches are on most high-end gaming keyboards today.
But there are also brands that are making their own switches. Logitech, Razer, and SteelSeries are a few of them. Because the switches are made in-house, they can make small changes to fit their needs as necessary. If you want to learn more about mechanical keyboards and switches, be sure to my guide on mechanical switches, where I will go more in detail of what the switch is doing and what types of switches there are. For now, let's take a look at some of the best mechanical gaming keyboards on the market.
Best Mechanical Gaming Keyboards – Tech Comparison
| ​ | Corsair K95 Platinum | Logitech G810 | Roccat Vulcan 100 Aimo | Corsair K63 Wireless | SteelSeries Apex M750 |
| --- | --- | --- | --- | --- | --- |
| Interface | Wired | Wired | Wired | Wireless | Wired |
| Switches | Cherry MX Brown | Romer-G | Roccat Titan | Cherry MX Red | StellSeries QX2 |
| Backlight | Full RGB | Full RGB | Full RGB | Blue | Full RGB |
| Macro Keys | 6 | 0 | 0 | 0 | 0 |
| Numpad | Yes | Yes | Yes | Yes | Yes |
| USB Pass-Through | Yes | No | No | No | No |
| ​ | Buy on Amazon | Buy on Amazon | Buy on Amazon | Buy on Amazon | Buy on Amazon |
Best Mechanical Gaming Keyboards – Buyers Guide
Why Mechanical Keyboards is a Must
There is a lot of talk about mechanical keyboards in this guide and now it's time to let you know why. If you think about when you are playing a game. No matter what game it is, you want something to happen when you press a button. What if the keyboard could register your key faster so you don't have to press so much? Wouldn't that be great? Without getting into a keyboard history lesson, non-mechanical keyboards will usually take a longer time to register when a key is pressed.
Most of the techniques work in the way that the key has to be pressed down enough to make contact with a copper contact on the PCB of the keyboard. The contact can be as far as 4mm down. When it comes to mechanical keyboards, they are using another type of technology. Under each key, there is a switch instead of a contact.
The switch is able to register the click much faster, usually between 1,2-mm down instead of 4. You may not think that it sounds like very much but if you need to be fast, and you have been using a mechanical keyboard for a while, you can never go back. Let's take something as simple as typing. I am writing this on a mechanical keyboard and because of the topic, I started to think if I ever push down the keys as far as they go. After having done some typing I can say that I do not. I press than about half-way and then move on to the next key.
This is allowing me to write much faster. The same thing is applied to gaming. For any FPS, MMO, RPG or any other genre, you will need to be fast doing your rotation, reloading and so on. Having a mechanical keyboard for that will make it much easier and the response from the game will be much faster. Another reason for getting a mechanical keyboard is because of how much longer they last.
Many keyboards what were made in the 80's were mechanical keyboards and I am sure you know, there is a lot of keyboards left from the 80's. Maybe it's worth spending a bit more money on a keyboard if you can keep it for 20 years? Here is an article from Wired about an old keyboard model that is still clicking away today.
To add a third reason, mechanical keyboards are really easy to clean. Since you can remove all the keycaps, you can just fill a bucket with water to place them in. The soda that you spilled on the keyboard the other day will resolve and be gone the next time you look at it. Yay for water. With the keycaps removed, the rest of the keyboard is really easy to clean as well since you are able to reach places you otherwise wouldn't. You know when you ate crisps in front of the computer and a small piece fell into the keyboard? If you have a mechanical keyboard, you can just remove the keycap and pick up the piece. Easy.
Different Types of Switches
What type of switches can you find in mechanical keyboards? A lot, as it turns out. The most common switch-maker is Cherry. They have been making keyboards since 1973 and is today the oldest keyboard maker. They have made switches since the 80's so it's clear they know what they are doing when it comes to keyboards. Cherry is making about 10 different kinds of switches. They are differentiated by the feedback they give, the travel time and the pressure you have to apply for the key to register.
To avoid making this part extremely long and complicated, I have written an article on different types of switches that goes more into detail about each switch. But I want to give an overview over the most common switches. Cherry MX Red – This is the switch that is maybe the most common for gaming keyboards.
They are very popular switches because they don't need much force to be pressed. The switch is non-tactile. This means that the feeling when you push the key is the same the whole way down and up. There is no feedback when the key has been pressed down. Cherry MX Blue – If you want to annoy the person next to you, you should get a keyboard with blue switches. Because of how they are built, they give a satisfying click when they are pressed down.
These types of switches are very popular for writers because they feel kind of like a typewriter. Cherry MX Brown – If red is for gamers and blue is for writers, the brown is somewhere in the middle. They don't give as much tactile feedback as blue but enough to feel it. Because they suit both communities, the brown switches are very popular and can be found on many mechanical keyboards, not just gaming ones. Cherry MX Silver Speed – The MX Silver (or Speed as some are calling them) are one of the latest switches from Cherry.
These switches were made to give the user ultra-fast response. The actuation point (where the key actually registers the click) is just 1.2mm down, from the otherwise standard of 2mm. Other than that, they are very much like the red switches. The fact that they take 0.8mm higher means that a player can push even less for the key to register the click. Cherry MX Black – The black switches were one of the first switches to come out.
They are non-tactile, meaning they have no clicking sound and no tactile feedback when pressed down. These switches were very popular before the red switch came to market. The difference between them is basically that the black switches need more pressure than the red switches. As I have said before, other companies are making switches as well. For example, Logitech is making their own Romer-G switches.
These switches are very different from Cherry switches in how they are made. While Cherry has a pin in the middle of their switches, Logitech has a hole. In that hole, they have the LED. This means that they can make keyboards with a very little light leak. They also register the key faster than many of the Cherry switches, at just 1.5mm. We also have companies like Razer who has three types of switches and SteelSeries as well. However, if you want to learn more about those switches, I'd recommend reading my article about the different switches in mechanical keyboards.
Customizing a Mechanical Keyboard
Since the keycaps are removable on mechanical keyboards, there is a lot of fun things that you can do. Making a search on Amazon for mechanical keycaps is generating over 2.500 results with different keycaps that can be purchased. Many of these kits will also include a little tool that is making it easier to remove the keycaps from the keyboard.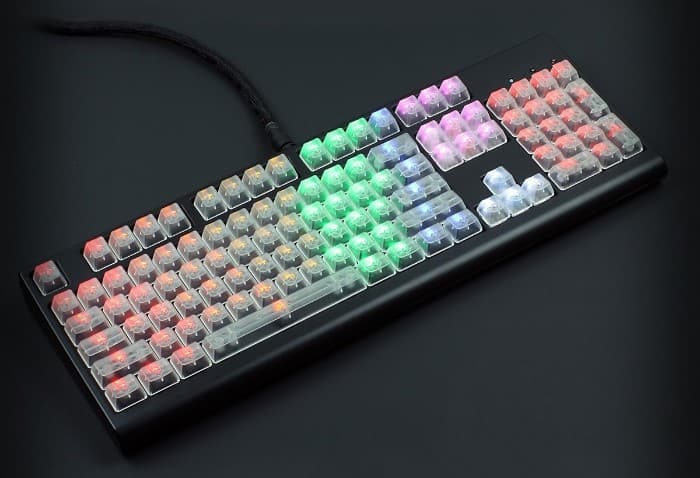 Take this kit for example. These keycaps are fully translucent so that you can see your RGB much better. The idea of changing keycaps is great since you can really customize your keyboard to your liking. Some users have golden arrow keys while others have a green numpad. Anything is possible when you can choose the keycaps you want. It's really a nice way to be creative with your keyboard. It's safe to say that this type of customization is getting more fun if you choose to purchase a keyboard with RGB. Most keyboard software today is advanced enough that you can have a special color on each key. It's not a job that I am willing to do to make my keyboard look awesome, but if you are willing to spend the time, you will surely have a unique keyboard to show off to your friends.
Frequently Asked Questions (FAQ)
When it comes to mechanical keyboards, there is a lot of questions, as with anything. But when you are willing to spend this much money on a keyboard, you want to know that it is the right choice. Down below, I have answered a few questions that I get a lot when it comes to mechanical keyboards.
Can Mechanical Keyboards Get Wet?
As with any other electrical component, no. Some manufacturers have made their keyboards spill-proof but that is more the exception than the rule.
How to Clean a Mechanical Keyboard?
Since the keycaps on mechanical keyboards can be removed, it's much easier to clean a mechanical keyboard. Simply remove the keycaps and then use some compressed air on the keyboard to remove whatever dirt you might have had there. A damp cloth can be used to remove and stickiness that is stuck on the keyboard. Let the keyboard dry for a while before plugging it in the computer.
Are Mechanical Keyboards More Ergonomic?
No, they are not. This is really not comparable because the ergonomics of a keyboard is about the layout and shape of the keyboard. Mechanical switches are just a technique for pressing down the keys.
Can You Make Mechanical Keyboards Sound Less?
Yes, it's possible to put sound dampeners on most mechanical keyboards. By putting dampeners under the keycap, stopping it from hitting the bottom, you can make a mechanical keyboard much quieter. Our favorite website HowToGeek has a perfect guide on this.
Why Is There Almost No Wireless Mechanical Keyboards?
It's a good question. Without any proofs, numbers or anything that is backing up what I am about to say, I think that the cost is too high. I am sure that most manufacturers can make a wireless mechanical gaming keyboard today but it would cost much more than most people are willing to pay for it. It's also a fact that RGB takes a lot of power and having a mechanical keyboard with full RGB and a reasonable battery is hard to achieve.
Wrapping Up
After all that reading, it's time to wrap it up. The guide was made so that you could learn more about gaming keyboards and mechanical keyboards in general as well to give you some tips on the best gaming keyboards that exist on the market. I am updating this guide regularly so that it always stays fresh and features the latest keyboards (if they are good enough). This way, you can make sure that what you have just read is the latest and greatest in gaming keyboards.
If you are going to purchase a keyboard, I would be very thankful if you purchased it on Amazon using the links that I have provided above. That way, I will get a small commission from your purchase and I am able to keep running this website. It doesn't cost you anything extra, but you are helping me just the way that I helped you with this guide. I would also encourage you to share this guide with your friends so that they can also get better keyboards. The worst thing is when you get awesome gear for your rig but your friends that you play with are still stuck with old trash, making the team worse in co-ops. If you have any other questions or wondering something about gaming keyboards, just comment below and I will get back to you as fast as I can.