Producing high-quality music isn't only about the speakers and audio equipment, but a monitor also plays a crucial role! 
As a music producer, you need to use several tools and tuners like Reaper, and Sony Acid Pro, so having a big and amazing computer monitor is indispensable.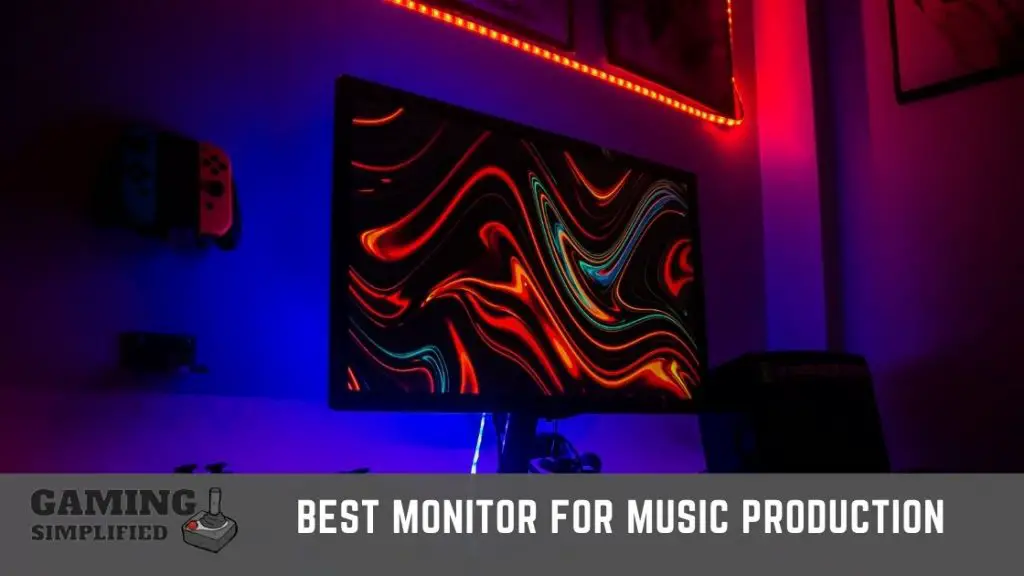 Do you know how to choose a monitor for music production? Well, there are plenty of things one should look at including the resolution, refresh rate, connectivity ports, and more.
I've been in this industry for years, and here is a list of the six best computer monitors for music production that producers and sound engineers love using.
Top 3 Best Computer Monitor for Music Production

6 Best Computer Monitor for Music Production
LG is here with a perfect ultra-wide monitor that's fit for all types of music production and related activities making it one of the best computer monitors for music production! If you have some extra space, you should consider this UHD display. 
It's a 43-inch flat and wide screen, and you get plenty of space to operate four software at a time. Most manufacturers offer a curved display at this budget, but this isn't the case with LG 43UN700-TB. 
Furthermore, the display might be too big for some in-house DAWs, so ensure measuring the space beforehand.
Loaded with connectivity ports, the monitor features four HDMI and one USB Type-C port, so you can connect a range of audio equipment with it. I was expecting a Mini HDMI port as well, but that's missing in this computer monitor. 
The stunning clarity will surely blow your mind, and there is no flickering at all. Everything runs smoothly, and the display has a 3840 X 2160 resolution making it great for a professional music studio.
Furthermore, the display is designed to be easy on your eyes, so you can work for hours without any eye strain. There's a built-in 2.0 channel speaker system as well that's pretty loud and has good bass. 
The computer monitor comes with a tilt-adjustable stand to reward you with a comfortable viewing angle. Unfortunately, it does not support height adjustments due to the massive screen.
Lastly, it is compatible with a VESA mount, so you can mount it on the wall to make your audio workstation look neat.
Pros
It has a super-wide screen for amazing multitasking

You can connect it with multiple devices and equipment 

The tilt-adjustable stand offers great support 

The display projects every visual with unmatched clarity and color projection
Cons
Pretty expensive for beginners

It is not height adjustable 
Bottom Line
If you need a professional monitor for your high-end digital audio workstation, LG 43UN700-TB is your way to go. It features a high-resolution screen with built-in speakers, which makes this monitor a great buy. Just be sure that the stand doesn't offer height adjustments, so place it accordingly.
Next on the list is my personal favorite, Samsung UJ59. Whether you have an in-house studio or a professional one, you can consider this compact monitor. The display has almost everything a music producer needs, including ultimate picture clarity, fantastic response rate, and more.
However, a few users reported that the display is fragile, so handle it with care while installation. 
On the 32-inch display, you get good space to do multitasking, and you can connect different devices with this monitor. Furthermore, every picture projected on it has amazing clarity, thanks to the 3480 X 2160 pixels resolution.
Samsung UJ59 has an impressive refresh rate and response time, so you can expect it to run smoothly, and there won't be any lags at all unless you are not playing high-end games on it. 
Tools like FL Studio, Reason, Acid Pro, Ableton Live, and Cubase work great as the display houses AMD FreeSync technology that enhances the visuals in monitors for music production. 
Samsung has made sure this display is fit for music production, and that's why it has every connectivity port you might need, including HDMI, USB, and DP. 
However, it lacks a Type-C port, so you may need adapters and connectors to connect your equipment with this monitor. 
Overall, Samsung UJ59 is a smart choice for your DAW (digital audio workstation) under a budget. The big desk stand is versatile and offers height and tilt adjustments for a comfortable viewing experience. 
Pros
Thin bezels minimize the distractions 

Perfect for small audio stations 

The matt display reduces glare and is easy on the eyes 

No image ghosting and flickering 
Cons
It doesn't feature a Type-C port 

The menu buttons are at an awkward place 
Bottom Line
Samsung UJ59 is an amazing budget monitor that's perfect for in-house or mobile audio workstations. As the monitor comes with AMD FreeSync technology, it runs everything smoothly. You can quickly connect multiple speakers and other gadgets, as there are plenty of ports on offer.
If you want to feel immersed in your job of producing music, Philips 328E1CA is your way to go! It's a curved screen that surrounds you, and you can work for hours without any distractions. However, the bezels are a little thick, and it may take you some time to be habitual to it. 
The 4K display produces rich graphics and visuals, so every color it projects becomes even better. The reason why music producers love this computer monitor is the screen size and resolution. 
The monitor for music production uses 120% sRGB Adaptive-Sync for smooth color gradations. There won't be flickering or image ghosting even if you open multiple windows at once.
Philips claims that it is an anti-glare screen, but it glares at certain viewing angles, so you need to spend time to choose the ideal angle. 
Connecting multiple devices with the monitor is possible, as the display has all the necessary ports. But there's just one USB Type-A port, so I'd recommend using a USB hub for better connectivity. 
Philips has used their exclusive eye-strain reducing technology to minimize the strain.
Usually, monitors of this budget don't have speakers, but Philips 328E1CA has a built-in speaker for content creation. The stand offers height and tilt support to reward you with the best viewing angle.
In a nutshell, Philips 328E1CA is a bang for the buck and is a versatile computer monitor. It features a big screen and a curved display along with a multitude of connectivity ports to make things convenient.
Pros
It comes with a four-year warranty 

Effortlessly smooth action 

The LowBlue mode reduces eye fatigue 

Built-in cable management keeps your audio station clutter-free
Cons
Limited tilt adjustments 

Only one USB port
Bottom Line
 I recommend Philips 328E1CA to those looking for a compact screen as monitor for music production. Sound engineers and content creators can open multiple windows at once, while streaming online. The stand lets you manage the cables, which makes the desk looks neat.
LG 27UL500 is a versatile computer monitor that you can use for music production and gaming as well! Loaded with Radeon Freesync Technology, this IPS monitor for DAW can run everything smoothly, and you won't encounter any lags. 
Now there's no need to place multiple screens on your workstation, as you can operate multiple windows on this display. Fortunately, the bezels are sleek, so you get a better and uninterrupted view while working.
As per several users, the screen flickers at 60htz and 30htz which is downright bad, as it belongs to a brand like LG. 
The anti-glare display filters the blue light, making it great for your eyes and reduces fatigue. After finishing with your music production work, you can use the Game Mode to play your favorite games on the same monitor.
As music producers and content creators, we guys need an easy to install monitor, and LG 27UL500 is a perfect choice. It comes with a big stand that lets you adjust the viewing angle and height. 
The only major disappointing thing in this monitor for music production is the unavailability of USB ports. Neither it has a USB Type-A port, not Type-C port, so connecting some gadgets will be problematic.
Furthermore, the stand wobble sometimes, so ensure placing it on a super-flat desk and keep it secure all the time.
Lastly, the monitor comes color-calibrated, so you don't have to worry about anything. Just plug it with your audio devices, and you can start creating content.
Pros
It's sleek and compact 

Three HDMI ports help you DaisyChain multiple displays 

Flicker-safe and fatigue-free display 

On-screen control helps you split screen 
Cons
The screen looks small 

It doesn't feature USB ports 
Bottom Line
Choose LG 27UL500 and work with ultimate comfort, as the stand lets you choose an ideal viewing angle. The thin bezels reduce the distractions, and you can work for hours without any interruptions.
Also, the monitor lets you DaisyChain it with other displays, making it a great option for professionals as well as beginners.
Dell S3221QS is another popular option among sound engineers and content creators, thanks to its big and attractive display! With its three-sided thin bezel design, the monitor for DAW offers you a big screen to work on.
Dell claims that it's a curved monitor, but it appears to be on the flatter side, still it provides an immersive experience which is a great thing. 
Furthermore, you can easily operate more than three windows on a single screen, which eliminates the need for having two monitors. The 1800R display expands the field of vision while it wraps you around for an amazing experience.
Dell has made sure its best monitor for music production is suitable for DAWs, so it has all the required ports, including DP, HDMI, and USB. I loved how smooth the screen operates, as the monitor has a 60Hz refresh rate.
As it is a TUV-certified display, expect less eye fatigue and strain. You can even set it on the Comfort View mode exclusively offered by Dell.
The stand the screen mounts upon supports tilt, swivel, and pivot adjustments for a comfortable working experience.
S3221QS even features a dual 5-watt speaker system that's professionally tuned by Wave MaxxAudio. However, the audio quality is average, and is not something you would love using while creating content. 
Moreover, some users said that the speakers emit a loud coil whine sound, which is disturbing at times. So, keep the volume to the lowest setting when not using the speakers. 
To sum up, this amazing monitor from Dell deserves a place in your audio studio if you are looking for a perfect-sized screen. Some brands offer an HDR monitor at this budget, but this isn't the case with Dell S3221QS. 
Pros
Premium picture and sound quality 

It reduces fatigue in the eyes 

Fully adjustable display for more comfort 

Loaded with connectivity ports 
Cons
The sound quality is not that impressive 

Some users reported a clicking noise 
Bottom Line
Dell S3221QS is for the folks that love working for hours creating great content. There are numerous connectivity ports, so you can connect every audio equipment of your digital workstation with the monitor. It even features built-in speakers, so sound engineers always find it as a lucrative option.
If you are new to music production and need a budget monitor to kick-start your career, you need BenQ EL2870U. 
Designed to offer a seamless experience, the monitor has a 1ms response time, and there is no lag at all. You can operate all your windows without any interruptions and connect multiple devices with it.
However, some colors may wash out, when you use the monitor to its full capability. 
As it is a 4K monitor, you get stunning picture quality with mind-blowing clarity. Furthermore, this monitor has a wide color gamut that displays billions of colors on display.
BenQ offers an Eye-Care comfort mode with the monitor, and it helps you work for hours with comfort. Moreover, the zero-flicker display prevents headaches, and you can even work during dark hours.
Some users had issues with the HDR washing out, and the monitor requires restarting, so it can be an issue sometimes. 
I'd recommend BenQ EL2870U for a mobile audio station as the monitor features a built-in speaker that produces loud and clear sound. 
The computer monitor comes with a fully adjustable tilt stand. However, it doesn't support swivel adjustments, and getting an optimal viewing angle can be problematic.
It features multiple connectivity ports including HDMI, USB, DP and more to help you produce fantastic content. 
Lastly, as per some users the monitor has input lags, so it may take some time to display the connected devices on the screen. 
Pros
It features a dedicated HDR button 

The stand hides the cables, so your audio workstation looks neat 

No broken frames or image tearing 

Improved pixel density 
Cons
The field of view could've been better 

It doesn't feature an audio port 
Bottom Line
BenQ EL2870U is known for its breath-taking picture clarity, and HDR mode. You can use the equalizers with more precision, as the display highlights every color for a better experience.
I'd say this monitor is an ideal choice for in-house as well as professional digital audio workstations
Buying Guide: Factors to Consider When Buying the Best Monitor for Music 
Best computer monitors don't come cheap, so you should ensure you are making the right decision before buying one. Here are a handful of things to consider in a computer monitor.
Screen Size 
If you are a pro music producer, you might be using a lot of tools in synergy. And that means you need a bigger screen so that you can open multiple windows and work on them simultaneously.
Don't settle down for anything less than 34-inches. You can even opt for super-big screens like 40-inches for an amazing experience.
Resolution 
The higher the resolution, the sharper the images appear. Monitors with excellent resolutions, i.e., 3440×1440 pixels, produce a high-definition picture, so you can see everything with ultimate clarity.
Furthermore, you can even use the monitor for other purposes like video production or designing graphics for your music album.
Connectivity Ports 
Make sure the monitor you are looking to purchase is compatible with the cables you are already using for music production. HDMI is one of the essential ports a good computer monitor should have.
Moreover, some people consider USB Type-A ports to connect speakers, mics, and other pieces of equipment. The modern monitors in 2021 even feature a Type-C port for faster data transfer.
Aspect Ratio
Some music producers prefer a horizontal view, whereas some prefer a vertical view. You should look at the aspect ratio of the monitor to determine the relative vertical and horizontal size of the computer graphics.
For example, a monitor with an aspect ratio of 3:1 will have a width three times the height of the image. I've mentioned the aspect ratio of all best computer monitors with their details, so you can quickly choose the right one.
Built-in Speakers 
Some of the best computer monitors have a built-in speaker system, and that's great for music producers that are always on the move. These speakers are not that great in terms of quality, but they serve the purpose pretty well. 
Flat VS Curved Screen 
If you want to have an immersive feel working on the computer monitor, you should choose a curved screen. However, flat screens are evergreen and are highly portable as well.
Budget 
The best computer monitors for music production come in a range of options, including high-end and cheap monitors. If you are a budding music producer, you should start with a budget monitor, whereas pro producers should opt for premium displays that are big and produce sharp images.
Frequently Asked Questions 
Q: What's the best screen size for an audio work station? 
A: There's no such thing as the best size because it entirely depends on your preference. If you have an in-house studio, you don't need a massive screen. On the other hand, professional studios are incomplete without a big screen.
In this article, I've reviewed best computer monitors of all screen sizes, so you can quickly make an informed choice.
Q: Do I need two monitors for music production?
A: If you buy a big display with split screen technology, you do not need two monitors. There are several best computer monitors like LG 43UN700-TB 43 Inch Monitor Class UHD 4K (3840 X 2160) IPS Display that eliminates the need of getting a dual-screen setup.
Q: Does a monitor matter for music production?
A: You might be wondering if a monitor really makes a difference for music production! Well, yes, a monitor that's big and produces clear images will help in the decision-making process.
Plus, there are no flashy or snappy images, so you can work comfortably without any issues. One more benefit of buying a good computer monitor is reduced eye fatigue and less strain.
In a nutshell, you should consider purchasing the best computer monitor. 
Q: Should you buy a monitor with a built-in speaker?
A: It entirely depends on your requirements. Usually, all audio stations have a good speaker setup, but you can choose one with a built-in speaker if you need something portable.
I've some friends that have a mobile audio workstation, and they are using best computer monitors with built-in speakers. 
Q: Are studio monitors good for home use?
A: Studio monitors are perfect for musicians, producers, and sound engineers, but that doesn't mean you cannot use them at home. During the COVID-19 pandemic, most working professionals have shifted their audio workstation to home.
I'd say investing in the best computer monitors will be a great choice, as you can shift it to your professional studio after the COVID thing gets over.
Takeaway! 
Now that you know about the best computer monitors for music production, you can quickly make an informed choice. Read on the reviews carefully, and then compare several monitors based on their specs.
Moreover, read the buying guide to know more about the factors that affect the performance of the best computer monitors.
Lastly, if you ask me for a recommendation, I'd recommend the LG 43UN700-TB 43 Inch Monitor Class UHD 4K (3840 X 2160) IPS Display. If you need a budget choice, you should go with Philips 328E1CA 32″ Curved Monitor.