2017 was the year of RGB and at CES 2018, we are seeing more RGB than ever before. There are even gaming chairs with RGB now if that is what you are missing in your life. However, when it comes to monitors, there has often been RGB on the back where no one will see. MSI has come up with a simple, yet effective and useful, solution by putting the RGB in the front of the monitor.
MSI is showing the Optix MPG27C and the Optix MPG27CQ at CES 2018. These monitors are 27" inch and are curved. While I personally don't think that 27"-monitors should be curved, there are others that think differently. They feature 144Hz refresh rate with 1ms response time and thus, they are targeted to gamers. They also come with FreeSync for you AMD fans out there. The only difference between these monitors is that the MPG27C has 1920×1080 resolution while the MPG27CQ has a 2560×1440 resolution.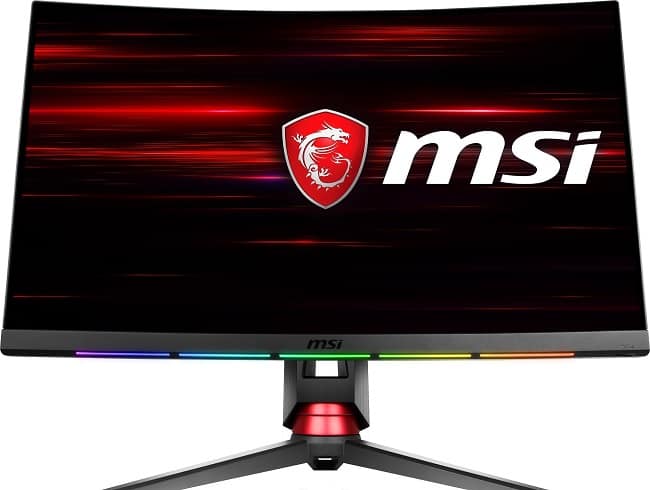 The unique thing with these two monitors is that they have RGB in the front of the monitor. There are five sections which you can set to any color you want. They are compatible with the SteelSeries Engine which is the software you control the RGB from. In the Engine, you are also able to use the SteelSeries GameSense. Using this feature means that you can configure your lightning to show different things in-game. For example, you can let the RGB show your health bar or your ammunition bar.
Another cool thing with the new monitors from MSI is the menus. There is a joystick on the back which you can use to navigate the menus on the monitor. However, if you plug a USB into the monitor to your PC (which will also enable you to use the built-in USB hub), you are able to navigate in the monitor menu with your mouse. I am surprised this hasn't happened sooner. Navigating in menus on monitors has always been a pain and I am glad to see that MSI is letting us use our mice for that.
As with almost anything else on CES 2018, there is no information on pricing and release date yet but it should be in the first half of 2018.
Video Review