The world of flight simulation is ever-changing and full of options. If you're looking to take your flight sim experience to the next level, a career add-on might be a perfect choice. 
Among the career add-ons, Neofly and Fseconomy are 2 of the renowned ones. As a result, there exists a dilemma when it comes to choosing between them.
So, what should you choose between neofly vs fseconomy? 
Between Neofly and Fseconomy, Neofly has more mission variety and better aircraft collection. On the other hand, Fseconomy has better compatibility and multiplayer feature. The UI of Fseconomy is worse than Neofly. However, Fseconomy is the older add-on of the two and has more registered users.
If you're worried about choosing the best career mode add-ons, more details will help you clarify the differences. Read the article till the end to do so!
Neofly vs Fseconomy: a Quick Look
A quick look at the major differences between Neofly and Fseconomy will be the right start to the comparison. It'll help you look at the bigger picture. Observe the table below to know the key differences between these 2 career mode add-ons:
| | | |
| --- | --- | --- |
| Differentiating Factors | Neofly | Fseconomy |
| Aircraft available | More | Less |
| Compatibility | Less | More |
| Community | Active | Active |
| Multiplayer feature | Yes | Yes |
| User interface | Application | Website |
| Variety of missions | More | Less |
| Reward system | Yes | No |
| Market system | Available | Available |
| Installation process | Easy | Easy |
| Ranks | Yes | No |
| Cost | Free | Free |
Now all you're lacking is further information about the differentiating factors. In the next section, I've elaborated on it. Read it to simplify your decision-making process!
Neofly vs Fseconomy: A Detailed Comparison
Compatibility:
It's important to know the compatibility of career mode add-ons beforehand. Not every career mode works with every flight simulator. 
When it comes to compatibility, Neofly is limited. As of now, Neofly can only support the career mode add-on for Microsoft Flight Simulator only. It doesn't work with other top flight simulators out there except for MSFS,
On the contrary, FSEconomy works with Microsoft Flight Simulators and X-Plane Flight Simulators. You can also pair up FSEconomy with Prepar3D Flight Simulators. 
It works with any flight simulator that accepts the FSUIPC module. Additionally, FSEconomy works with most of the 3rd party packages as well.
Summary: The FSEconomy has a higher compatibility range when compared to Neofly.
Variety of Missions:
All career mode add-ons for flight simulators have special missions that can improve and add a realistic experience. 
Neofly has a ton of varieties in missions. The mission unlocks with the ranks. As you fly more, your rank will increase and you'll see new missions available. Some of these missions require money to be unlocked, though.

Neofly also has a reward system that gives a player achievements upon completing missions!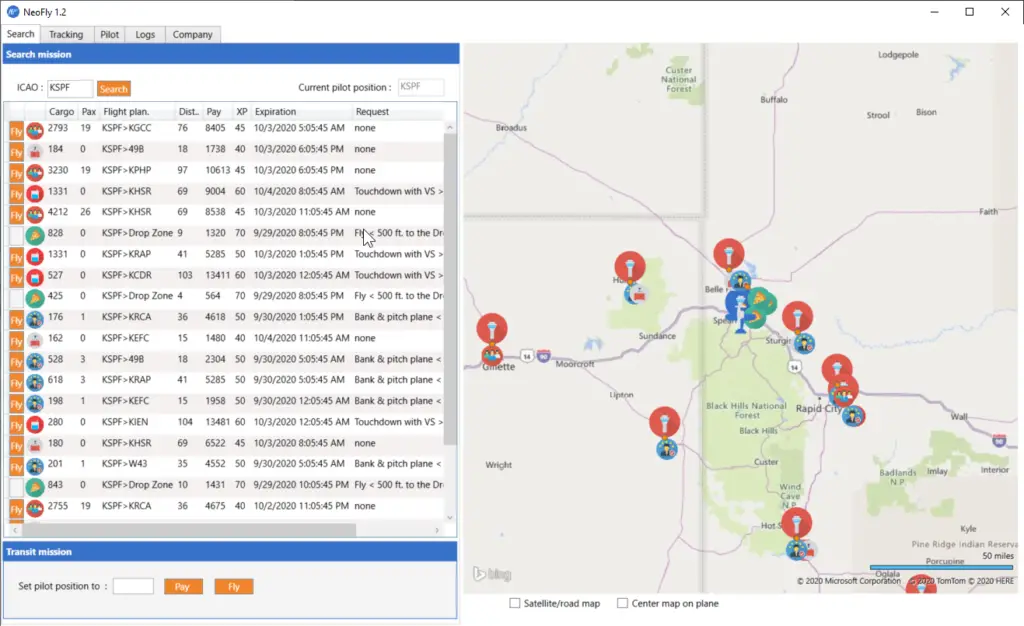 On the other hand, FSEconomy has a limited variety when doing missions. As FSEconomy's the older one when compared to Neofly, it should have more mission types, but it doesn't. It also lacks the different ranks and reward system that Neofly has.
The mission variety can improve the fidelity of the career mode. To improve the gameplay, you can use curved monitors for gaming so that you get the ultimate experience of MSFS.
Summary: Neofly has much more variety of missions in comparison to FSEconomy.
User Interface:
The user interfaces of different career modes serve a great purpose. It can define your overall experience with the add-ons!
The FSEconomy has a simple website as its user interface. It's not the modern looking thing you've ever seen, but still, it does the job. The website has all the features of the FSEconomy. You can see all the airports, flights, banking details, etc. 
While using the compatible flight simulator, the 'FSE SimConnect' popup will appear. It will automatically connect to the flight. It's essentially a part of the UI and website as well. But all in all, FSEconomy's UI looks old and backdated.
On the other hand, Neofly has a full-fledged application as the user interface! This UI is basic but very decent. All the functionalities work great. It even has extra features like dark mode and light mode. Overall, it's the more modern choice between the 2!
Handling Neofly's UI is much easier than FSEconomy's UI. It's similar to the comparison between FenixA320 vs FlybyWire where there's a difference in the user interfaces.
Summary: Neofly has a better user interface than FSEconomy and it is easier to use.
Multiplayer Features:
Gaming is always better in multiplayer mode. Whether it's your friends or online gaming buddies, flying together can be a superb experience.
In the case of FSEconomy, it has multiplayer features. In FSEconomy, you can pair up with your friends to do missions together. FSEconomy also has a leaderboard feature that can bring out some competitive play among you and your peers!
Similar to FSEconomy, Neofly also has multiplayer features available. However, you can only host a flight, let others join, and then fly together. It is less fun when compared to FSEconomy's multiplayer features! Also, it lacks the leaderboard feature too. 
So although both of these career mode add-ons support multiplayer features, FSEconomy offers the better one.
Summary: The multiplayer features on FSEconomy are more versatile when compared to Neofly.
Community:
In order to interact with other players, you must be connected with a community. The same goes for Neofly and FSEconomy's communities. 
FSEconomy has an active community. Also, there are different groups and features like community updates, monthly magazines, etc. It really helps the community come together. 
On the contrary, Neofly's community is very active as well. It has a lot of active and registered users. The community is very supportive as well. Although this community does have fewer members than the FSEconomy community.
Summary: FSEconomy has a better and larger community with more events than Neofly's community.
Market System:
The career mode add-ons are built to provide you with a realistic POV. To do that, market systems must be implemented in the add-ons.
FSEconomy has a decent market system. You can rent, buy, and sell planes in the marketplace of FSEconomy. But Neofly has a better market when compared to FSEconomy.
These market systems do rely on the flight network as well. For example, there are differences in the market when comparing ivao vs vatsim.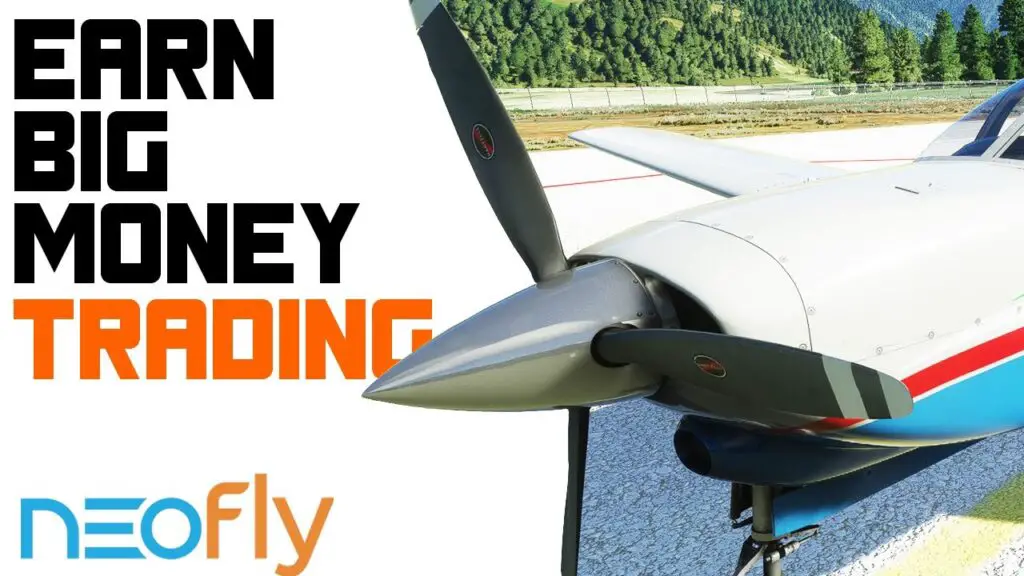 Neofly's market has a wider range of your aircraft available. There's also an FBO system and artificial intelligence pilots you can use to boost your income. The marketplace of Neofly is more fun and versatile than the FSEconomy's market. 
Summary: The market system of Neofly has a bigger range and has more feature's than FSEconomy's market.
Installation Process:
Some career mode add-ons are good but the installation process is complex. Fortunately, that's not the case for either Neofly or FSEconomy. 
To get started in Fseconomy-

Start with ensuring a compatible flight simulator with Fseconomy. Most Microsoft and X-plane simulators work with X-plane. 
After that, create 2 accounts; create a community account and a game world account. 
Finally, download the FSE client and install it on your OS. This process is fairly simple.
On the contrary, the installation process of Neofly is also easy. To get started in Neofly-

First, download and install Microsoft Flight Simulator.

After that, download the client for Neofly. You can find the download link on the

Neofly website

.

Finally, create a Neofly account, bind it with Microsoft Flight Simulator, and launch the app to get started.
Summary: In terms of installation processes, both of the add-ons can be easily installed.
Neofly vs Fseconomy: Final Verdict
By now, you can clearly see the differences between these 2 career mode add-ons. However, to help you further, I've summed up the differences. Pick according to your preference!
If you're looking for a career mode add-on that is modern and advanced, pick Neofly. It also has unique ranks and reward systems that FSEconomy lacks. 
Neofly offers more missions and has a wider range of aircraft available. This add-on is free and easy to install as well. 
Still, Neofly is only compatible with MSFS and no other flight simulator. Furthermore, the multiplayer feature of Neofly is still not up to the point yet. 
On the contrary, you should pick FSEconomy if you're looking for a high-compatibility add-on. FSEconomy has a larger and better community and multiple features when compared to Neofly.
However, the user interface of FSEconomy looks and feels old. The variety of missions and aircraft available is also less than Neofly. Still, the add-on is pretty simple to install.
Frequently Asked Questions (FAQs):
Can you earn real money with FSEconomy??
No, you can not earn real money with FSEconomy. It is a simulation platform and any currency earned inside the simulation can not be exchanged into real money that you can use in real life.
What is the most realistic Flight Simulator?
X-Plane 12 is the most realistic and common flight simulator of aviation. It has the most realistic cockpits, the most detailed scenery, and the most realistic weather conditions for guests. Moreover, it's been the most aerodynamic flight modeling for many years.
How to lease a plane in FSEconomy?
To lease a plane in FSEconomy, the owner of the plane must start a transaction. The transaction can be done on the FSE website. There will be a dropdown menu on the transaction menu, which has the 'lease' option. Clicking this option will bring up the players the owner can lease the plane to.
Wrapping up
That's all the differences between neofly vs fsecoomy. I really hope that the discussion above has helped your decision!
These career mode add-ons always strive to portray the real world. Flight simulators and add-ons can be a great way to learn the career path of aviation!
Best of luck!