When choosing a mechanical keyboard, it's often the switches that are the difference. Sure, some offer USB pass-through, some offer RGB, some offer macro keys but these is features that you can say yes or no to. However, when it comes to mechanical switches, you really want to find the perfect switch that is right for just you.
There are a bazillion switches on the market today, with Cherry MX being the biggest manufacturer. However, other companies such as Razer and Logitech have started to make their own switches, and very successfully so. Today, I thought that we will take a look at these three companies and their most popular switches.
Many of them look very alike and that is because they are. We are talking about differences in grams and less than a millimeter, yet the feel of the switches can be completely different. But before we talk more about switches, we need to understand what types of mechanical switches exist.
Types of Mechanical Switches
When talking about mechanical switches, there are mainly three types of switches that are being mentioned, linear, tactile and clicky switches. Each of these types is different from one another and feels different as well.
Linear switches are the most common. They are very simple and suits most people. The thing with linear switches is that they just go down and up again. There is no tactile feedback that gives you a hint on when the key is actually registered. They are also somewhat quiet without that clicky feel that many, especially writers, want.
Tactile switches will give you feedback when pressing the keys. This will let you know when the key is registered, and you can move on to the next key. While it's only a few millimeters difference, for some, this can be a big timesaver.
Clicky switches are the ones that sound the most. There is a bump in the travel and there is a "click" when hitting that bump. The bump and the click give you that confirmation that the key has been registered.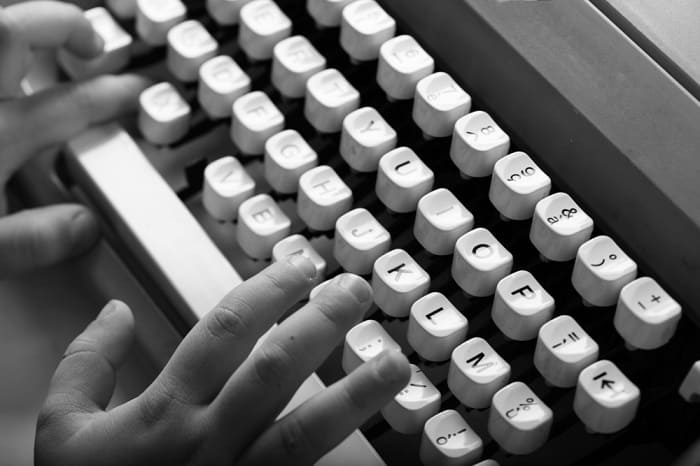 Learning the Words
When talking about mechanical switches, words like actuation force or total travel distance often comes up. It's important that you know what all of this means before you start looking at which switch is good for you since you will have a better understanding of what it actually is.
Actuation Force – The actuation force is how much pressure is needed for the key to actually be moved. A switch with an actuation force of 45g will require 45g to start traveling down. Some people have trouble with higher actuation force since it's not as light to type on, you have to hit the keys harder.
Actuation Point – The actuation point is where the key is actually registered, meaning that this is the point when your computer will actually do the action that this key is assigned to do.
Total Travel Distance – This is pretty self-explanatory. This is the total distance a key can travel down. The actuation point is often somewhere in the middle but depending on the pressure you have to apply on the key and your typing style, some people follow the keycap the whole travel distance. It also does give you some form of "soft landing" since you can start to release the key, thus giving less pressure, before you hit the bottom.
One more thing you should keep in mind is the cleaning process of a mechanical keyboard. It a little tricky. It's not as simple as cleaning a gaming mousepad.
So, now that you have the information and knowledge needed to understand mechanical switches, let's take a look at some Cherry MX switches!
| ​ | Red | Speed | Black | Brown | Blue |
| --- | --- | --- | --- | --- | --- |
| Type | Linear | Linear | Linear | Tactile | Clicky |
| Actuation Force: | 45g | 45g | 60g | 45g | 60g |
| Actuation Point | 2mm | 1.2mm | 2mm | 2mm | 2mm |
| Total Travel Distance | 4mm | 4mm | 4mm | 4mm | 4mm |
| Sound Level | Quiet | Quiet | Quiet | Quiet | Loud |
Cherry MX Switches
Since 1967, Cherry has been making keyboards. They are, in fact, the oldest keyboard manufacturer and thus, they have some knowledge on how to make a good keyboard. Today, they are most famous for their Cherry MX switches which they started making in 1985. To separate them, the switches are in different colors and this is also the way they are referenced when talking about Cherry MX switches.
Cherry is making quite a few switches but the most popular are the Cherry MX Red, Brown, Blue, Silver and Black. These are the switches that you will find in most mechanical keyboards today. They offer their own unique feature and I am pretty sure that any of these five will suit you.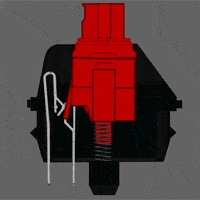 Cherry MX Red
The Cherry MX Red is probably the most popular among gamers. That is because it's a light switch that doesn't require as much pressure. The travel distance is only 2mm which means that the key will be registered quickly, which is an important part of gaming. They are reasonably quiet and doesn't give as much tactile feedback as some other switches. It's not needed for gaming, but if you are a heavy writer, you might miss that feedback.
Finding a keyboard with red switches is easy, just look for basically any gaming keyboard from Corsair. They are heavenly invested in Cherry MX switches and thus, offer a boatload of switches for their mechanical keyboards, red being one of those switches.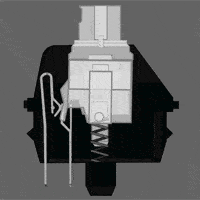 Cherry MX Speed
Red may be the most popular among gamers, but the Cherry MX Speed isn't far behind. It shares most of the specifications with the red switch by being a linear switch that only requires 45g of actuation force. However, the difference is in the actuation point. The Speed will register the key at just 1.2mm down. For an e-sport gamer, 0.8mm could be the difference between life and death. However, the for the normal gamer, very few are noticing a difference.
The MX Speed isn't as common as the red switches. But once again, Corsair comes to the rescue. In their higher end models, like the K70 Lux Rapidfire or the K95 Platinum, you can get MX Speed switches. Both keyboards can be found on Amazon.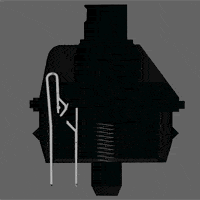 Cherry MX Black
Once again, linear switches are the most popular. One of the switches that have existed since 1984 and is still going strong, is the MX Black. It does require 60g of actuation force which can be a bit heavy for some people that are looking for light switches. The good thing is that you can really feel the key is being pushed down which some folks like. The actuation point is the same as red with 2mm.
MX Black is not very common and if you want a keyboard with black switches, you will have to look away from the bigger brands. The ROCCAT RYOS MK Pro on Amazon is using MX Black but the overall quantity of MX Black keyboards is small.
Wrapping Up
The monitors I've mentioned you can get on amazon. Still, I want you to compare again among the products and note them down the features. Finally, analyzing the notes on different monitors chose the one that meets most of your need.
If you want you can also check other buyer's guides for making a better decision. Good luck!
Video Review