PlayStation 5, or PS5 as popularly known, is a massive upgrade over its previous generation. The latest gaming console from Sony has immense muscle power to run games at Full HD and 4K resolution.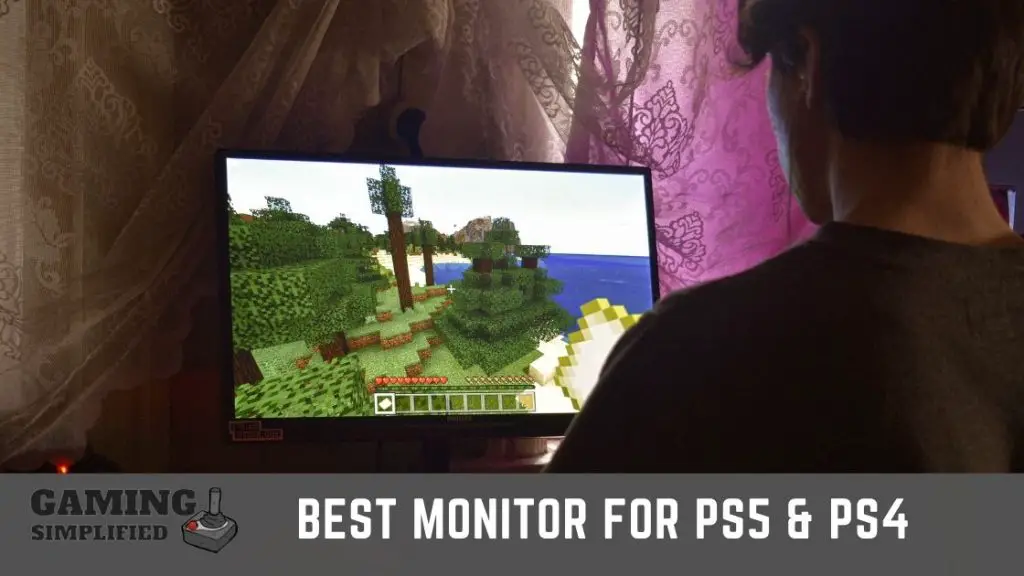 Keeping this in mind, we've selected monitors that offer excellent gaming performance in 1080p and 4K resolution. This new console also supports 4K@120 fps; however, monitors that support 4K gameplay at 120 fps cost through the roof and aren't available in the market.
Hence we've listed the 5 Best Monitors for PS5 for 4K gaming at 60 fps and Full HD monitors at 120 fps.
Top 3 Best Best Monitors for PS5

5 Best Monitors for PS5
The Asus ROG Strix XG438Q is probably the most extreme gaming monitor you can buy for playing games on your PS5 and computer system.
Asus featured this monitor in CES, and now you can buy it and play PS5 games on it. Isn't that awesome? It is a 43-inch monitor with a 10-bit 4K panel. The most significant selling point of Asus ROG Strix XG438Q is that it supports 4K gaming at 120Hz.
Thus, you can use PS5's powerful hardware and play modern games at 3840 x 2160p at 120fps. Hence, you'll enjoy the massive resolution and clarity of 4K games and play them at a faster pace.
It costs just over $1000, and for the price, you get excellent features like FreeSync 2 HDR, Vesa HDR600 certification, and 4ms response time. Hence, Asus has made sure to leave no stone unturned in turning the Asus ROG Strix XG438Q as the best monitor for PS5 gaming.
Built quality and design-wise, the Asus ROG Strix XG438Q looks massive. The 43-inch panel seems like a small TV; however, at close viewing, it looks superior. It comes with a 3-legged metal alloy stand that keeps the entire monitor sturdy. However, you miss out on ergonomic options like swivel, pivot, and height adjustments. You only get tilt adjustment, and that's it.
Connectivity-wise, the Asus ROG Strix XG438Q comes with 1x DisplayPort 1.2, 3x HDMI 2.1 ports, 2x USB 3.0 ports, and a 3.5mm headphone jack. Moreover, the package comes with a small projector within the monitor stand. It projects the Asus' ROG logo onto the surface.
With the Asus ROG Strix XG438Q massive screen, close-range visuals are absolutely fantastic. Playing FPS games is a joy, whereas, with a big screen, you can also sit few feet away and enjoy massive-sized visuals.
In terms of the monitor's panel, the Asus ROG Strix XG438Q comes with a VA panel instead of an IPS panel. While the VA panel offers a better refresh rate, an IPS panel would have improved the color gamut by a more considerable margin. Moreover, in a dark room with darker scenes, you can notice excess screen bleeding issues, which might make you question your $1000+ expenditure on this screen.
Pros
Massive screen size for close-range gaming

120Hz refresh rate at 4K resolution

Outstanding HDR performance

10-bit color support

Excellent color reproduction in a bright room
Cons
Misses out of height, swivel, and pivot ergonomic adjustments

Mediocre contrast ratio

Very expensive
Bottom Line
"If you want a no-compromise monitor to play the latest PS5 games with these ps5 dns settings that offer 120fps at 4K, then you should get this screen eyes closed. It offers exceptional gaming performance, whereas it will be a great combination with your powerful gaming system as well."
The BenQ Mobiuz EX2510 is the latest addition to BenQ's lineup of premium 1080p gaming monitors. Compared to the 43-inch monitor featured above, the BenQ Mobiuz EX2510 is a significant departure in terms of screen size.
There's a 5x price difference between both monitors, as the BenQ Mobiuz EX2510 costs just above $200. It is a 25-inch screen that comes with a 24.5-inch IPS panel. The IPS panel offers 1ms response time and a refresh rate of 144Hz. Hence, playing modern, fast-paced PS5 games will be a joy on this monitor.
In terms of built quality, BenQ has found a balance between premium and budget construction. The design aesthetics look very premium, and BenQ has done a great job of not including any glossy plastic. The monitor's front and back have matte plastic that seems very sturdy. Moreover, the silver-colored plastic base has a dash of orange line towards the front to give it a unique look.
Compared to the Asus ROG Strix XG438Q mentioned above, the BenQ Mobiuz EX2510 comes with height, tilt and swivel adjustments. Hence, for a far lower price, you get better ergonomic adjustments. Although portrait adjustment is missing, it isn't a deal-breaker for a gaming monitor unless you want to play Tetris.
BenQ mentions on its product page and marketing material that this monitor comes with HDRi technology. You also get a dedicated HDRi button on the right side of the bottom bezel. However, it is just a marketing gimmick. After pressing the button, it only adjusts the monitor's brightness and contrast to mimic the HDR mode poorly.
The monitor's OSD menu looks very neat, and you won't have issues using it regularly. On the connectivity front, this screen comes with 2x HDMI 2.1 ports and 1x DisplayPort 1.2.
BenQ claims that this monitor offers a 1ms response time, and the monitor panel stands true to that. During intense gaming, you can expect an average response time of 4ms. However, in specific scenarios, the response time can overshoot to 50ms.
Furthermore, the BenQ Mobiuz EX2510 covers 98% of sRGB color space, which helps to offer better color accuracy since modern games have become incredibly realistic. The IPS panel also helps in further improving the color output compared to a VA or TN panel.
Pros
Superior built quality

Better looking than its competition

It comes with height, swivel, and tilt adjustments

98% sRGB color space coverage makes gaming on PS5 a joy
Cons
The HDRi feature is just a marketing gimmick

The response time can overshoot to 100ms in 144Hz refresh rate

Built-in speakers are overhyped and offer mediocre performance
Bottom Line
"The BenQ Mobiuz EX2510 is a premium 1080p gaming monitor and ideal for gaming on PS5. It has a supremely modern design that matches other premium gaming monitors that costs well over $1000. If you can dismiss the fake HDR, then this monitor is an exceptional pick."
The Acer Nitro XV242Y is my favorite pick when it comes to a 24-inch Full HD gaming monitor. Priced close to the BenQ Mobiuz EX2510, the Acer Nitro XV242Y is feature-packed to the brim.
It comes in a 23.8-inch monitor size with an IPS panel. It has a 16:9 aspect and native Full HD resolution. It supports upto 165Hz refresh rate when overclocked and a standard refresh of 144Hz. It comes with FreeSync Premium technology and is G-Sync compatible. Moreover, it offers a whopping 0.5ms response time with ease.
Connectivity-wise, the Acer Nitro XV242Y offers 2x HDMI 2.10 ports, 1x DisplayPort 1.4, and a headphone jack. For a budget price, you get 4-way ergonomic adjustments like tilt, swivel, height, and pivot. Hence, Acer has left no stone unturned in making the Acer Nitro XV242Y the best gaming monitor for PS5, Xbox, and PC.
In terms of built quality and design, this monitor is very sturdy and doesn't wobble easily. The monitor's base is small and helps in reducing the visual bulk. It has very slim bezels on the top, left, and right sides. The bezels become almost non-noticeable due to the complete black design.
Being an IPS monitor with an overall black design, you can notice backlight bleeding issues. This issue is common in most IPS monitors, and the Acer Nitro XV242Y also isn't immune to this.
Pros
Supports FreeSync Premium and G-Sync compatible

165Hz max refresh rate

Extremely low response time

4-way ergonomic adjustments
Cons
IPS backlight bleeding issue

Gimmicky HDR

Requires more space than a regular 24-inch monitor
Bottom Line
"If you have limited space, yet want the best monitor for PS5 for professional gaming, then you should consider the Acer Nitro XV242Y. Acer has equipped this monitor with impressive specs that are hard to match at its current price."
4. Asus TUF VG289Q– Best 28 inch 4k Gaming Monitor
The Asus TUF VG289Q is a mid-range 28-inch 4K gaming monitor. While most 27-inch 4K monitors have 163-pixel density; however, with a 28-inch screen, the pixel density reduces to 157, which can be a slight bummer.
This monitor has a peak brightness of 400 nits and has HDR10 support. Hence, you can enjoy HDR10 content and get excellent color depth and accuracy.
Being a 4K monitor, the Asus TUF VG289Q has a maximum refresh rate of 60Hz. This makes it an ideal choice for console playing, as most games on PS5 are still locked at 60 fps.
Built quality-wise, this monitor is exceptionally sturdy and well built. It comes with swivel, tilt, height, and pivot adjustments. Moreover, making such adjustments is very easy, and you won't feel any hurdle or blockage while doing it. It has an entirely plastic body design, which is sturdy and justifies its price tag.
When you pivot the monitor 90 degrees, you can easily access its connectivity options. This screen offers 2x HDMI 2.1 ports, 1x DisplayPort 1.2, and a headphone jack.
Using the monitor's OSD menu, you can make plenty of adjustments and turn the picture quality according to your choice. This screen also includes Shadow Boost technology, which boosts colors and brightness in darker scenes while gaming. However, you can notice backlight bleeding or IPS glow during darker scenes, which is a big issue plagued with IPS panels.
Pros
Bigger screen real estate

Vibrant color reproduction

HDR10 support

4-way ergonomic adjustments

400 nits brightness
Cons
Average contrast ratio

Slight color adjustments required out of the box
Bottom Line
"The Asus TUF VG289Q is an amazing 28-inch monitor that offers the right panel size for PS5 gaming and 4x higher native resolution than a regular Full HD monitor. It has an extremely sturdy build quality with plenty of adjustment options at hand."
If you're looking for an inexpensive 4K monitor, it doesn't get any better than the Philips 276E8VJSB. Priced under $300, this monitor looks very sleek and adheres to modern design language. It has a black color design throughout, while the Philips logo is embedded in a glass chin giving it an ultra-modern look.
The Philips 276E8VJSB is a 27-inch monitor with a 16:9 aspect ratio. It has a native resolution of 3840 x 2160p with a pixel density of 163ppi. The IPS panel provides a 10-bit color depth. However, in reality, you get 8-bit + 2-bit FRC.
Since your main aim is to play modern games on PS5, you can enjoy vibrant and slightly saturated colors with its 109% sRGB color space coverage. It will look good while playing modern games. You can reduce the color gamut to make sure the monitor displays true colors rather than saturated ones.
Being a 4K monitor, the Philips 276E8VJSB has a refresh rate of 60Hz. Hence, you'll enjoy playing games on PS5 and Xbox gaming consoles. However, PC gamers would love to stay away from this monitor as they can opt for a 1440p monitor with a 144Hz refresh rate display.
The brand claims this monitor has a 5ms response time display. In our testing, we've noticed the average response time is around 9ms; whereas, the response time can overshoot up to 100ms in certain conditions. Having said that, it is not a significant issue and is sufficient for PS5 gaming.
In terms of built quality, the Philips 276E8VJSB has an average built quality that adheres to its price. Although, this display has an entire glossy back with piano finish. It will be a big dust and finger magnet. Incidentally, VESA mounting feature is also missing in this monitor.
The back also contains connectivity options like 2x HDMI 2.0, 1x DisplayPort 1.2, and a headphone jack.
Pros
Value for money product

109% sRGB offers vibrant colors while gaming

Minimalistic design

Cheaper than its competitors
Cons
VESA mounts missing

Glossy black back is painful to maintain

Poor OSD controls
Bottom Line
"The Philips 276E8VJSB is probably the cheapest 27-inch 4K monitor display available in the market. However, that doesn't mean there's a lot of cost-cutting done for the price. You can easily use PS5 on this monitor and enjoy games at 4K resolution."
Things to Consider Before Buying Best Monitor for PS5
Supported resolution:
The current PS5 version natively supports 720p, 1080p and 2160p resolution. It doesn't support 1440p resolution yet, which can be a bummer for people who own or want to buy a 1440p resolution monitor. 
However, if you have a 1440p monitor, you can select 2160p, i.e., 4K resolution, and your display will downsize the contents to 1440p.
High frame rate gaming:
With PS5's powerful hardware, it supports up to 120fps gaming. Hence, you can play select games like Borderlands 3, Call of Duty series, Devil May Cry 5, Dirt 5, and a few others at 120fps with 1080p resolution. 
Moreover, few games also support 4K@120fps gaming. However, there are hardly any monitors that can output 120fps gaming at 4K resolution. It also requires a new HDMI 2.1 connection standard.
Display Screen Size:
In the above list, I've selected monitors that range from 24-inch to 43-inch in diagonal screen size. Since monitors are commonly used at closed range, even a 43-inch monitor for PS5 seems extremely massive. Therefore, you must first determine the distance between you and the monitor and select the appropriate screen size.
If you plan on playing 120fps games, then I'd recommend going with a 24-inch display with 1080p resolution. Thus, you'll get better pixel density compared to a 27 or 32-inch monitor with 1080p resolution.
Frequently Asked Questions
Do 144Hz monitors work on PS5?
PS5 doesn't support 144Hz; however, you can use a 144Hz monitor for PS5 to play games at 120fps. Modern PS5 games now offer native 120fps gameplay at 1080p resolution. Hence, if you dig high frame rate gaming, then picking a 144Hz display is a no-brainer.
Can PS5 run 4K 120fps?
Yes, PS5 can run 4K resolution at 120 fps. However, there's a significant limiting factor in terms of games and monitors that support 4K@120fps gaming. Currently, very few games can run at 120fps at 4K resolution, whereas; monitors that support 4K@120fps cost through the roof.
Are gaming monitors better than TVs for PS5?
Most modern TVs are limited to a 60Hz refresh rate; whereas, gaming monitors can offer up to 360Hz refresh rate and better pixel density. Since PS5 now supports 120fps gaming and few games are available with 120fps gaming support. Hence it makes sense to get the best monitor for PS5 rather than a TV. Also, best monitors for eye strain 2022 are designed to prevent eye strain as compared to tvs- settings of which can be changed easily!
Conclusion
I hope this article helped you choose the best PS5 monitor for yourself. If budget isn't your concern, then you should go with the #1 pick, i.e., Asus ROG Strix XG438Q eyes closed. You can also club it with your powerful desktop computer to extract better performance.
Suppose you don't want to spend more on a monitor than the PS5 console itself. In that case, going with our other 4K monitors, Asus TUF VG289Q and Philips 276E8VJSB, seems like a wise choice. You can also go with curved monitors, but you should check out our take on are curved monitors good for gaming?
Furthermore, if you want to play PS5 games at 120fps, in that case, you can pick a Full HD monitor for PS5 like the BenQ Mobiuz EX2510 or Acer Nitro XV242Y as many modern games now support 1080p@120fps gaming. Also, before you go, check how to connect xbox to pc with hdmi!